Tamil protection movement launches Four Directions March in Tamil Nadu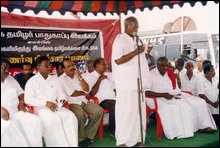 Ilangkai Thamizhar Paathukaappu Iyakkam (ITPI) led by Pazha. Nedumaaran and consisting of PMK leader Dr. Ramadoss, MDMK leader Vaiko, CPI leaders in Tamil Nadu, R. Nallakannu and C. Mahendran are engaged in launching awareness marches from the four corners of Tamil Nadu highlighting the plight of Eelam Tamils and demanding the immediate release of more than 250,000 Tamils detained in the Sri Lanka Army (SLA) internment camps in the north of Sri Lanka.
Mr. Nallakannu speaking at the inauguration event in Kanniyaakumari on Tuesday said that though the countries of the world including Britain, France and Australia had condemned the internment of Eezham Tamils in barbed wire surrounded camps. He blamed India for having provided military support to Sri Lanka in its atrocities against the Tamils.
Mr. C. Mahendran who also spoke at the event compared the global Tamil community with the Jewish people and said the struggle of solidarity in Tamil Nadu would continue until the Tamils in the island of Sri Lanka win their political rights.
Meanwhile, Dr. Ramadoss, leader of PMK took part in the inauguration event Tuesday near Chennai Memorial Hall, presided by G. K. Mani.
Dr. Ramadoss speaking at the event said that while the countries of the world have begun to consider the war in Sri Lanka as a liberation struggle, India, being a neighbour, refuses to recognize it as a liberation struggle.
Sri Lanka Army occupying the traditional homelands of Eezham Tamils should immediately be withdrawn, he added.
Dr. Ramadoss will be leading the 'Awareness March' Thursday from Thi'ndivanam.
The march from Koavai is led by Pazha. Nedumaarn, from Rameasvaram by Vaiko and from Kanniyaakumari by Nallakannu.
The marching columns will converge in Thiruchchi Friday where a mass gathering is to take place.
Immediate resettlement of the interned Eezham Tamils in their own villages, the atrocities by Sri Lankan armed forces against the fishermen of Tamil Nadu are the issues that are to be raised in the Friday mass meeting, the sources added.
(For updates you can share with your friends, follow TNN on Facebook, Twitter and Google+)