Sri Lankans refuse to leave ship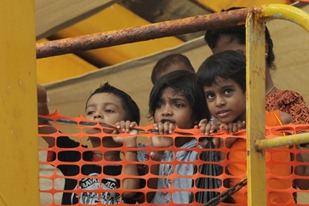 Australian and Indonesian officials have begun talks over the fate of 78 Sri Lankan asylum seekers found drifting in international waters more than a week ago.
The Sri Lankan Tamils are being held on the Oceanic Viking, an Australian customs ship, off the Indonesian island of Bintan, where there is an immigration detention centre, and are refusing to leave the vessel.
Indonesian officials have said they will not allow the migrants ashore, defying an agreement between the Australian and Indonesian governments.
Stephen Smith, Australia's foreign minister, said on Wednesday that Susilo Bambang Yudhoyono, the Indonesian president, had told Kevin Rudd, the Australian prime minister, that Indonesia would take the asylum seekers.
'No forced removal'
Smith told Australian public radio he hoped force would not be needed to remove them.
He said: "It's not a matter for the Sri Lankans on board to choose where they make their application for refugee status.
"We absolutely defend their right to make that application. But they were picked up on the high seas [and] were rescued on the high seas. It's not their choice.
"In the end, we want them co-operate [but] how they disembark from the Oceanic Viking, in the end, will be a matter between Indonesian officials, Australian officials and the Sri Lankans."
Teuku Faizasyah, an Indonesian foreign ministry spokesman, told Al Jazeera that a forced removal will not be conducted.
Faizasyah said: "What we are trying to do is get them processed following standard procedures because they are entering our national territory.
"And there are certain requirements they need to follow like medical checks, obtaining information about their identity – methods any nation would do when foreigners enter their country."
Limited resources
The Sri Lankans are the latest in a flood of thousands of people from war-torn countries such as Afghanistan and Iraq seeking a better life in Australia but arriving in Indonesia.
In a separate incident, about 250 Sri Lankans caught on a boat en route to Australia are refusing to leave their ship, which is anchored off Java.
According to Australian officials, Indonesia is a staging point for human traffickers or "people smugglers" who are known to charge $15,000 per person for the trip to Australia.
The journeys, often bound for isolated Christmas Island, which is an Australian territory, are often made on boats unfit for the rough seas.
The cash-strapped Indonesian government has limited resources for dealing with the influx of immigrants and relies heavily on assistance from the United Nations and the International Organisation for Migration to feed and shelter them.
Al Jazeera English – Asia-Pacific – Sri Lankans refuse to leave ship
(For updates you can share with your friends, follow TNN on Facebook, Twitter and Google+)