Sri Lanka outcry over police brutality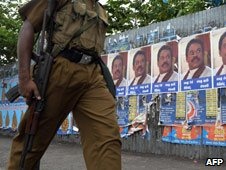 Sri Lanka's war ended in May but one branch of its security forces is now under particular scrutiny.
There has been an outcry against the police over brutal acts they are said to have committed.
People have also been protesting against their crackdown on organised crime, saying they are getting out of control.
A focus for public anger is the impoverished village of Angulana, half an hour to the south of the capital, Colombo.
Children and families play in the surf there as the ocean gleams.
The houses and shacks lining the sandy shore are poorly built with breezeblocks and tin roofs.
In a house nearby two families gather to tell the BBC the harrowing story of what happened there a few weeks ago.
One evening their sons, Dinesh, a fish-seller, and Dhanushka, a gym instructor, went missing. They were cousins, both in their 20s.
Hours later it emerged that they had been picked up by the Angulana police and held at the police station.
'Shock'
Dinesh's father Sangadasa says it was late the same night that he discovered his son's fate.
"On my way to the police station I heard people saying a nice-looking boy had been killed and his body was on the beach.
"I rushed to the seashore. I saw his body there. I went into shock."
Dhanushka's body was found later by a railway track.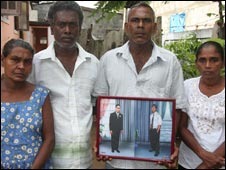 Both youths had gunshot wounds. Nine policemen now face possible murder charges.
Media reports said the victims had been teasing a local woman but exactly what happened remains unclear and local people were enraged by the killings.
Once they attacked the police station, the authorities promised action.
This is one among a recent series of apparent police misdeeds.
There are regular deaths in detention – the government admits 32 people have died in custody this year alone.
A human rights lawyer, Chandrapala Kumarage, believes the security concerns of decades of war have left some police officers (by no means all) feeling they are not accountable.
'Impunity'
"It is really police abuse," he says.
"Impunity is really the thing which encourages the police to commit this kind of crimes. And now the extrajudicial killings continue after the end of the war."
In Maligawatte, an old Muslim quarter of Colombo with narrow streets and brightly-painted houses, there is also indignation.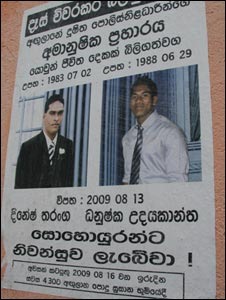 As Friday prayers finished at the mosque, children laughed and teased each other in the street outside.
But there was anger in the neighbourhood against the police, especially a so-called Special Task Force which had, over a number of weeks, been shooting men in this part of the city in what they call a crackdown on the underworld – a phrase also used by top members of the security forces.
Most of those killed happened to be Muslims although the police say this has nothing to do with ethnicity and that they are targeting known criminals.
Local people say many are not criminals and that even those who may be, deserve due legal process.
As soon as the prayers finished, dozens of Muslim men and women marched down the street with banners showing pictures of young men, at least one of whom had been killed.
Speakers addressing a rally a few minutes later voiced outrage.
One said some of those killed had been helping politicians and were only later labelled as "underworld" members and had weapons planted on them.
In defence
"They don't have the right to kill those people," another said. "We want to show the government, the entire world, that there is no law in this country."
Many are suspicious because police accounts of these killings usually follow the same pattern.
They say that a man is arrested; he takes police to a place where weapons are hidden; then draws a gun on them so officers are forced to shoot him.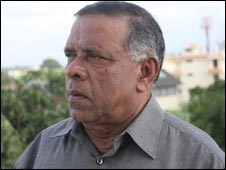 But Sri Lanka's police spokesman, Nimal Mediwake, defends his force.
In every case a magistrate's inquiry and post-mortem are held, he says.
"After completing that, the judge will decide whether it is justifiable homicide or the police are to be dealt with."
The spokesman added that there had not, to date, been any instances of the police being indicted after the death of so-called "underworld" members. In general, he said, it was ruled that the killings were justifiable homicide.
"These people have taken the law into their hands, trying to attack the police. So the police have had to return fire."
But lawyer Chandrapala Kumarage disagrees.
"In a country where there is rule of law and not law of the jungle, you can't kill people like that," he says.
'A violation'
"A responsible government has no moral right to say those killings are justified. They are illegal and they are in violation of the law of this country."
He links the "underworld" cases with the others, such as the Angulana ones, which have struck a chord with ordinary people.
Lawyers, including him, say the Sri Lankan government is violating the constitution by not having a standing independent commission on the police.
Back in Angulana, Devika Fernando grieves as she remembers identifying the body of her son, Dhanushka, killed like his friend and cousin, Dinesh.
"How can we accept the police as people who protect the public, if they commit this type of intolerable crime against society?" she asks.
"They are supposed to protect us."
(For updates you can share with your friends, follow TNN on Facebook, Twitter and Google+)