Galleon's Rajaratnam Asks Judge to Reduce Bail to $25 Million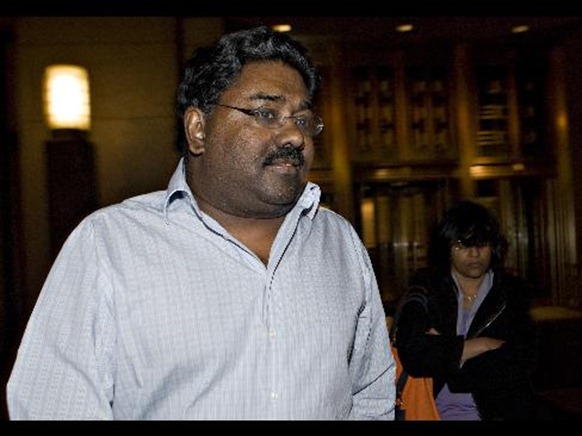 Raj Rajaratnam, the Galleon Group hedge fund founder accused of directing an elaborate insider- trading ring, told a judge he's being treated worse than Bernard Madoff and asked that his bail be cut to $25 million.
Rajaratnam, 52, requested in a letter yesterday that his $100 million bond be reduced. His attorney, John Dowd, wrote in the letter to U.S. Magistrate Judge Frank Maas in New York that the government's case is weak and that Rajaratnam intends to clear his name and won't flee. Dowd said his client needs permission to travel within the U.S. to meet with lawyers and sell his company.
"Mr. Rajaratnam is considering a number of possible business options in connection with the wind-down of Galleon, including a potential acquisition of Galleon by other interested parties that could preserve jobs for many Galleon employees," the lawyer wrote.
Rajaratnam, who gave up his passport and is restricted to within 110 miles of New York City, seeks permission "to meet with potential acquirers anywhere within the continental U.S.," Dowd wrote.
The government opposes a reduction in bail, he wrote.
The billionaire, who was released from custody the night of his arrest, is among six people accused in what prosecutors said is the largest hedge fund insider-trading ring ever charged.
Rajaratnam received tips in a $20 million scheme from a network of high-ranking corporate executives including co- defendants Rajiv Goel, who worked at Intel Capital, and Anil Kumar, who worked as a director at McKinsey & Co., prosecutors said. All have denied any wrongdoing.
Goel, Intel Capital's director of strategic investments, was freed yesterday on $750,000 bail after a hearing in federal court in Manhattan.
'Day in Court'
"Mr. Goel looks forward to his day in court," his attorney, David Zornow, said yesterday.
Intel Corp. has hired the San Francisco law firm Orrick Herrington & Sutcliff LLP to investigate the leaks, said Chuck Mulloy, a company spokesman.
"We have launched an internal investigation which is confidential," Mulloy said yesterday in a phone interview. "Consistent with our declared intent two weeks ago, we are cooperating with authorities to the extent they want or need our cooperation."
Janice Oh, a spokeswoman for Manhattan U.S. Attorney Preet Bharara in New York, declined to comment. Prosecutors said previously they have a strong case that relies in part on wiretaps of Rajaratnam.
Flight Risk
After Rajaratnam's Oct. 16 arrest, prosecutors said he might flee to his native Sri Lanka and asked that he be imprisoned until trial. A judge set bail at $100 million and required it to be secured by $20 million in cash and property. Rajaratnam has posted $2.5 million cash and a Manhattan apartment valued at $17.5 million.
Dowd said yesterday that $100 million is excessive and cited the $10 million bond that Madoff, the convicted money manager, was granted after he confessed to defrauding investors of billions of dollars. Rajaratnam, a U.S. citizen, has strong ties to the U.S., where his family lives, according to the lawyer.
"Mr. Rajaratnam's professional life and identity is also anchored in the U.S.," Dowd wrote. He has "spent the last 17 years of his life building Galleon into one of the largest and most successful investments funds in the country," voluntarily registering it with the U.S. Securities and Exchange Commission when others were reluctant to do so, Dowd said.
Single Witness
Dowd assailed the government's case, saying that it "relies heavily on a single cooperating witness," a reference to former Intel employee Roomy Khan.
In 2001, Khan was charged by federal prosecutors in California with passing nonpublic information to Galleon in 1998 about Intel's backlog, billing reports and product pricing, according to a complaint filed in federal court in San Jose. She pleaded guilty and was sentenced to six months of home confinement.
"Mr. Rajaratnam is confident that, when all the relevant facts come to light, he will be exonerated," Dowd wrote. "Far from intending to flee, Mr. Rajaratnam looks forward to defending himself."
Shredder-Free Office
As a sign of Rajaratnam's good faith, Dowd said the hedge fund founder almost immediately after his arrest ordered that shredders be removed from Galleon's office and that employees preserve documents. He said the documents will play a part in Rajaratnam's defense.
The lawyer challenged the prosecutor's claim that Rajaratnam may have intended to flee overseas. A pending trip to London cited by prosecutors had been scheduled for weeks. Rajaratnam planned to watch a movie he helped finance at the London Film Festival and to meet with potential investors.
Dowd's letter offered no other details about the possible sale of Galleon.
Prosecutors will probably respond to Rajaratnam's court filing with a letter of their own, and a judge may schedule a hearing in the case.
(For updates you can share with your friends, follow TNN on Facebook, Twitter and Google+)