Australia to expand asylum centre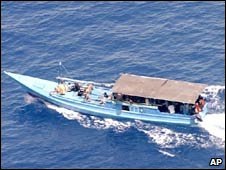 The Australian government has announced plans to significantly expand a detention centre on Christmas Island to cope with the influx of asylum seekers.
The capacity will be increased to more than 2000 beds from the original level of 1200.
The government said it was in response to a surge in arrivals, particularly from Sri Lanka.
But the opposition in Australia says it showed that the government's immigration policies had failed.
Critics argue that asylum seekers are held at Christmas Island for processing, rather than allowing them to step foot on the Australian mainland.
The Australian government has been struggling to cope with a surge in asylum seekers, there's been more than a tenfold increase on last year's figure of 161.
In what has become an increasingly acrimonious political debate, the Prime Minister Kevin Rudd has claimed that the increase is explained by 'push factors' – namely the situation in Sri Lanka and the ongoing conflict in Afghanistan.
But the opposition argues that the rise in asylum seekers has more to do with pull factors.
It singles out the Rudd's government's decision early in its term to relax some of the more severe immigration policies brought in by the former Prime Minister John Howard.
So the decision to expand the capacity of the Christmas Island detention centre in the Indian Ocean, where asylum seekers arriving by boat, are processed is hugely contentious.
The number of beds will be increased by almost 50% – a necessary move according to the government, to cope with the increased numbers.
(For updates you can share with your friends, follow TNN on Facebook, Twitter and Google+)