The road to nowhere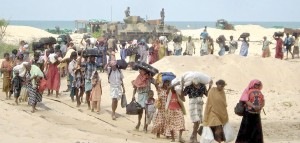 Not long ago the government pledged to resettle all the IDPs in the north and east within 180 days. To rebuild the lives of hundreds of thousands of people is no easy feat. Yet now the government is faced with the daunting task of doing just that. And while this is undoubtedly delicate and time-consuming, the government is faced with some pressure to accelerate the process. So perhaps it may come as no surprise that even within the government, there are conflicting reports on the total number of resettled people.
Minister of Resettlement and Disaster Relief Services Rishad Bathiudeen said that 79,282 people had been successfully resettled. Of these 61,688 were released for medical reasons. 328 were wounded, 6,379 were otherwise disabled or mentally handicapped, 7,071 were elderly, eight were foreign passport holders, 377 were released to elderly people's homes, 634 to children's homes, and 1,895 were pregnant women. "Progress is good," Bathiudeen said of the resettlement process. Bathiudeen added that around 170,000 people were still in camps, waiting to return to their home villages.
Accelerated resettlement programme
However an estimated 85,000 people had been resettled in their places of origin under an accelerated programme as of October 30, according to Secretary to the Presidential Task Force for Resettlement, Development and Security, S.B Divaratne.
Divaratne said that the government hoped to resettle a further 12,095 families, or 42,685 people in four districts; Vavuniya, Mannar, Killinochchi and Mullaitivu by November 2.
Divaratne observed that a further 150,000 people still languished in temporary IDP camps. Though the difference in number is only slight, the conflicting figures are worrying.
Both parties concurred that it was demining that was slowing down the resettlement process. Bathiudeen said there were 24 demining machines employed, and added that around 1000 personnel were being trained in the demining process a month. "We are planning to increase this number to 2000 people," Bathiudeen added. He went on to say that if demining was expedited, more people would be able to be immediately resettled.
Other concerns
Other concerns were the onset of the rainy season, which slowed down the resettlement process further, according to Divaratne. As for foreign aid, Divaratne said that the UN agencies, as well as the FAO had pledged their support. However it seems the government does not want to depend too much on international agencies.
"We are not depending much on INGOs for aid," Divaratne observed.
Divaratne said that the returnees would not be returning to their home villages empty-handed. Families would each be given two weeks dry rations, and this facility would be extended for six months. Distribution would be undertaken by village cooperative retail outlets. The government of India had donated kitchen utensils and agricultural implements to the IDPs while they were still in the camps, Divaratne said. Each family would receive 12-15 roofing sheets, as according to field reports, most houses had escaped destruction in the conflict. However many dwellings had missing roofs, windows and doors.
The government has made a request to India to provide another 1.1 million roofing sheets as there would be an inevitable shortfall.
The UNHCR has provided IDPs with a "return kit" containing non food items such as mosquito nets, bedding and sanitary items.
Entitlements of families
Resettled families were also entitled to housing assistance, Divaratne revealed. Each family receives Rs. 25,000, Rs. 5,000 of which would be given to families immediately, in cash. The rest would be in a Bank of Ceylon account, Divaratne said. The UNHCR has agreed to assist the Bank of Ceylon in this endeavour. Farmers will receive a subsidy for fertiliser from the Ministry of Agriculture. In addition, a request has been made for land preparation for  8,600 abandoned paddy fields in five districts, costing an estimated Rs. 34.7 million. In addition to this, families will receive an additional Rs. 4000 per acre for cultivation.
Meanwhile, China and India are assisting with road development, Divaratne said.  He surmised that repairs on the A9 and A32 roads to Jaffna would be completed within a month. "Renovation of schools, hospitals, clinics and cooperatives is a priority," Divaratne said.
(For updates you can share with your friends, follow TNN on Facebook, Twitter and Google+)