US 'to quiz Sri Lanka army chief'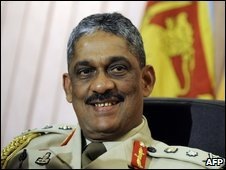 Sri Lanka says its army chief faces questioning by the US government, over alleged war crimes committed during the war with the Tamil Tigers.
The Sri Lankan government has told the BBC that it objects to American plans to interview General Sarath Fonseka, who is currently on a visit to the US.
The American State Department published a recent report outlining allegations of human rights abuses during the war.
The UN has previously said an inquiry is needed to determine culpability.
General Fonseka is visiting his daughters in Oklahoma, and has been asked to present himself for an interview with the Department of Homeland Security on Wednesday, reports say.
A senior Sri Lankan government source told the BBC that the US department wants him to testify against Sri Lanka's powerful defence secretary, Gotabhaya Rajapaksa.
US officials have declined to confirm reports of the putative interview.
The US state department submitted its report to Congress in mid-October, outlining serious violations allegedly committed by Sri Lanka's army, as well as rebels of the Tamil Tigers.
At the time, Sri Lanka said it would appoint a high-ranking independent committee to probe US claims of human rights abuses during the final phase of its civil war.
The Sri Lankan military had blamed reports of civilian deaths on the Tigers – with UN estimates of up to 6,500 killed – saying they used people as human shields.
The Sri Lankan army was accused by many at the time of indiscriminate bombardment, and using heavy weaponry in areas where civilians were present.
BBC NEWS | World | South Asia | US 'to quiz Sri Lanka army chief'
(For updates you can share with your friends, follow TNN on Facebook, Twitter and Google+)