Fonseka, Gotabhaya entangle in US legal net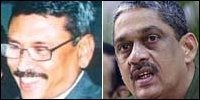 United States appears to be slowly moving to corral Major General Sarath Fonseka, an aspiring US citizen, and Gotabhaya Rajapakse, a US citizen with property and family living in the U.S., into the US Justice system to investigate the two Sri Lanka officials for criminal culpability for allegedly issuing commands to the Sri Lanka Army (SLA) to fire heavy weapons towards the SLA demarcated No Fire Zone (NFZ) in the final stages of war killing more than 20,000 Tamil civilians. Colombo dailies report that Gen. Fonseka, currently on a private visit to the US, has been asked by the Department of Homeland Security (DHS) to have a "voluntary meeting" to discuss matters related to the recently released war-crimes report, and if he would be willing to testify against Sri Lanka's Defence Secretary.
General Fonseka had indicated to Colombo that DHS official named Michael Tarantino had asked if Fonseka was prepared to be a 'source' against Gotabaya Rajapakse on war crimes, according to media reports in Colombo
"The DHS officials are likely to explain to Mr Fonseka possible incriminating evidence on war-crimes DHS has against Fonseka to encourage him to turn as a witness against Gotabhaya," legal sources in Washington speculated. While this commonly used technique produces an efficient prosecutory framework, the US prosecutors still will retain the option to prosecute both, if a co-defendant is unwilling to co-operate.
U.S. Government currently possesses,
an almost day-by-day record of the alleged war crimes and crimes against humanity committed by officials of the Sri Lanka Govnerment, and the Liberation Tigers during the five months, January to May, of the final war.
an interim report by a US forensic firm confirming the authenticity of the Channel-4 broadcast video of SLA soldiers summarily executing Tamil captives stripped naked and hands tied behind their backs, submitted recently by the US pressure-group, Tamils Against Genocide (TAG), to the State Department, and separately to the Assistant Secretary of State for South Asia and Central Asia, Robert Blake.
TAG's court filing against IMF loan which contains, in addition to the February to May list of crimes committed by Sri Lanka military against Tamil civilians, references to videos where Gotabaya Rajapakse makes self-incriminating statements on Colombo's right to shell hospitals outside NFZ.
"While the call for a meeting, inspite of the legal drama unfolding in the premises of Sri Lanka's embassy in the US, is very likely be a simple procedural matter following a decision taken to commense investigation by the DHS, the two high level officials face uncertain legal future in the US," legal sources in Washington said.
(For updates you can share with your friends, follow TNN on Facebook, Twitter and Google+)