Over 20 feared dead as boat sinks off Australia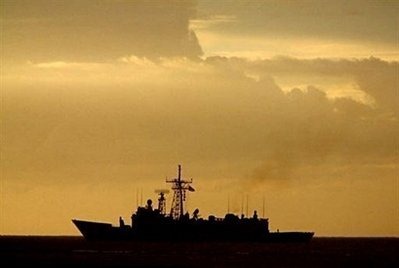 More than 20 people were feared dead on Monday after a boat carrying about 40 sank in rough seas far off northwest Australia, sparking frantic rescue efforts by a passing merchant ship and fishing vessel.
Australian officials said 17 people had been rescued by scrambling aboard life-rafts thrown out by the LNG Pioneer oil tanker, as it combed the area off the Cocos Islands before dawn along with a Taiwanese fishing boat.
It was not confirmed whether the boat was one of dozens of people-smuggling vessels which have headed to Australia this year carrying more than 1,700 asylum-seekers, many of them from Sri Lanka and Afghanistan.
"We obviously have grave concerns about the safety of those who are still in the water, given they've been in there for some time now," a spokeswoman for the Australian Maritime Safety Authority told AFP.
The boat got into trouble late on Sunday, prompting a plea for help by Australian authorities which was answered by the LNG tanker and Taiwanese fishing craft.
"The LNG Pioneer (merchant ship) is still conducting search and rescue now," the spokeswoman said. "It's throwing out its life-rafts in the hope of recovering more people from the water."
Home Minister Brendan O'Connor said an air force surveillance plane would be at the scene in a matter of hours, while an Australian rescue ship was still more than a day away.
The accident happened off the Cocos Islands, a tiny Australian territory in the Indian Ocean some 2,000 kilometres (about 1,000 nautical miles) from the mainland.
O'Connor said authorities did not know whether the sunken vessel was carrying asylum-seekers, who are the subject of fierce domestic debate as the government struggles to deal with the influx.
"The purpose of the voyage has yet to be determined. At this stage efforts are being made to rescue those at sea," O'Connor told Sky News.
"We want to make sure that the safety and well-being of these passengers are the first and only matter that is of concern at this point. Once we've done that we can start to work through those other issues."
(For updates you can share with your friends, follow TNN on Facebook, Twitter and Google+)