Sri Lanka steps up Tamil releases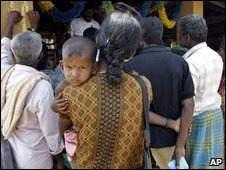 Sri Lanka's government appears to have markedly stepped up the release of Tamils from camps in the north.
Some 2,000-3,000 people a day are now leaving the camps, a BBC reporter in the area says.
The camps have been holding nearly 300,000 Tamils who were displaced in the final bloody weeks of the war with the Tamil Tigers earlier this year.
Sri Lanka's government has come under criticism for detaining non-combatants, as well as for its handling of the war.
On Monday, the Sri Lankan government formally protested at plans by the US to question its top military commander over alleged war crimes committed during the conflict with the Tamil Tigers.
'Plausible'
The BBC's Charles Haviland in Colombo says some of the many Tamils leaving the camps are going to host families, some to relatives.
Others are going to farmland which may or may not have been their original home.
Those leaving have told the BBC they are very happy to do so but are concerned about the future – in many cases they'll be starting again "from zero".
The authorities have provided many with sums of cash, with tools to clear overgrown land and with tin sheets for roofing their homes.
A Sri Lankan government minister has said some 80,000 people have now been resettled and nearly 190,000 remain in the camps.
The UN refugee agency told the BBC it could not confirm the figure of 80,000 returns.
But a diplomatic source in Colombo said it was plausible and that the pace of resettlement had significantly increased in the past week.
Family visits to the camps, and outsiders' access, have been severely restricted. Opposition parliamentarians in Sri Lanka have been vocal in protesting that they, too, cannot get inside.
The government has said the incarceration is necessary while the refugees are screened for possible links with the Tamil Tiger rebels and while the land is de-mined.
President Mahinda Rajapaksa says he wants all the refugees resettled by the end of January.
'Diplomatic passport'
News that Sri Lankan army chief Gen Sarath Fonseka, who is on a visit to the US, faces questioning there emerged on Sunday.
The US Department of Homeland Security has asked him to make himself available for questioning on Wednesday, Sri Lankan Foreign Minister Rohitha Bogollagama said.
"Our position is that the meeting should not take place," Mr Bogollagama told reporters.
He said Gen Fonseka was holding a diplomatic passport and was representing the Sri Lankan government on official work.
The American State Department published a recent report outlining allegations of human rights abuses during the war.
Sri Lanka's government says it is investigating the allegations after first dismissing the report as "unsubstantiated".
The UN has previously said an inquiry is needed to determine culpability.
BBC NEWS | World | South Asia | Sri Lanka steps up Tamil releases
(For updates you can share with your friends, follow TNN on Facebook, Twitter and Google+)