At UN, As Climate Refugees Draw Oral Support, Tamil Asylum Seekers Still UN-Helped
With refugees from armed government crackdowns in North Korea, Zimbabwe and Sri Lanka being rejected by countries they reach or try to reach, within the UN the talk of late is of a new kind of refugee, those caused by climate change.
  Top UN humanitarian John Holmes on October 28 described the situation in the pastoralist Karamoja region of Uganda in such terms. Inner City Press asked, what about the Museveni government's own policies, in some cases abetted by the UN and UN Development Program, of forcible disarmament of cattle ranchers who feel they need their weapons? Video here, from Minute 29.
Holmes acknowledged problems with the disarmament programs, but also spoke of drought. Five days later at the International Peace Institute, Holmes appeared on a panel on "Monitoring disaster displacement in the context of climate change." During what was called the question and answer session, a representative of Bangladesh read out loud a lengthy prepared statement asking the UN for money. Then there was no time for questions from the Press.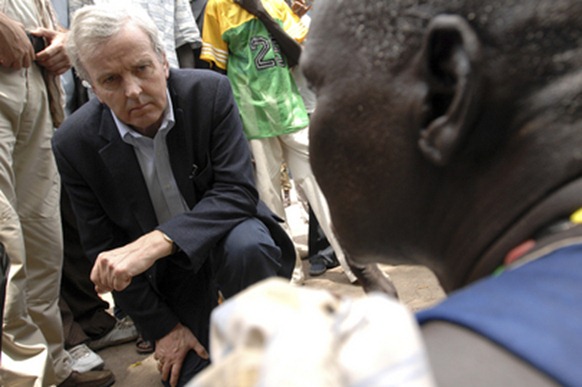 Across First Avenue at the UN itself, while questions are taken, few answers are given. On October 19, and once before and two times since, including October 29, Inner City Press has asked the Office of the Spokesperson for the Secretary General what the UN system is doing about more then 200 asylum seekers from Sri Lanka on a ship diverted from Australia to Indonesia. Still there has been no answer — and now another Australia bound ship has capsized, killing at least 11 people.
Where is the line drawn between climate refugees and those fleeing ethic discrimination? Or between green and economic refugees? When people leave an arid town in Mexico, or Somalia, why are they leaving?
  From the audience came the proposal to place the issue under the rubric of migration. A panelist, from Norway, replied that those impacted by climate can be distinguished. So are some forms of suffering political correct? She said that Sweden provides protection for climate refugees. What about North Koreans? Zimbabweans? Tamils from Sri Lanka?
(For updates you can share with your friends, follow TNN on Facebook, Twitter and Google+)