US tightlipped on Sri Lanka army chief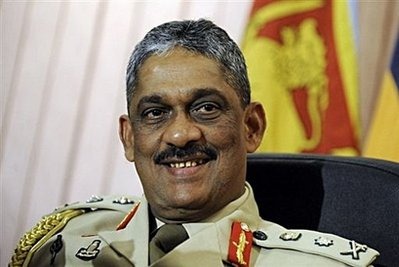 The United States was tightlipped Monday about Sri Lanka's visiting top military commander, after the island said US authorities planned to grill him over alleged war crimes.
Sri Lanka summoned the US ambassador to demand the Department of Homeland Security drop what the island's government said were plans to question General Sarath Fonseka over the campaign that crushed Tamil Tiger rebels.
"The Department of Homeland Security cannot confirm nor deny the existence of any investigation," department spokesman Matt Chandler said.
State Department spokesman Ian Kelly said separately that he was not familiar with the case.
Fonseka, Sri Lanka's chief of defense staff, holds US permanent residency and arrived in the United States last week to see his daughters in the central state of Oklahoma.
Foreign Minister Rohitha Bogollagama said the Department of Homeland Security, which handles US immigration, had requested that Fonseka make himself available for questioning on Wednesday.
The minister said US authorities were trying to force Fonseka to testify "as a possible source" against Sri Lankan Defense Secretary Gotabhaya Rajapakse over allegations of human rights violations.
The defense secretary, who holds US citizenship, is the younger brother of President Mahinda Rajapakse.
Sri Lankan troops in May killed the top leader of the Tamil Tigers, ending one of Asia's longest-running and bloodiest insurgencies that aimed at creating a separate homeland for the island's Tamil minority.
A State Department report presented to Congress last month charged that both the government and Tamil Tigers committed serious human rights violations in the finale of the conflict.
An advocacy group from the Tamil diaspora said it would welcome questioning of Fonseka.
"As US citizens, we are encouraged by our government's important first step towards bringing justice to Sri Lanka," said Anjali Manivannan, representative of Washington-based People for Equality and Relief in Sri Lanka.
"We were gravely disappointed by America's inaction as the death toll of Tamil civilians climbed into the thousands earlier this year, and we hope to see the US now take stronger leadership in promoting a political solution that respects Tamils' fundamental rights," she said.
The UN reported that more than 7,000 civilians may have perished in the fighting during this year. The Sri Lankan government contends that not a single civilian was killed by its own troops.
US tightlipped on Sri Lanka army chief – Yahoo! News
(For updates you can share with your friends, follow TNN on Facebook, Twitter and Google+)