Canada ties Sri Lanka migrant ship to Tiger rebels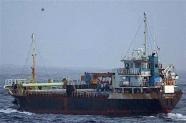 Several of a group of 76 Sri Lankan asylum seekers picked up off the Canadian coast last month have ties to the Tamil Tiger rebels and could pose a security risk, officials said Tuesday.
The Canadian government told an immigration hearing that the "Ocean Lady" freighter used to transport the migrants has been linked to the Liberation Tigers of Tamil Eelam (LTTE), panel spokeswoman Paula Faber told AFP.
The vessel had "possibly been used for arms shipments" and the men should continue to be detained "on national security grounds," government officials told the hearing, according to Faber.
Tests showed two of the men detained had explosive residue on their clothes, the officials said.
One of the would-be immigrants was released last week by the Immigration and Refugee Board. Hearings to determine the fate of the others continue. All 76 have indicated they plan to seek asylum in Canada.
"Initially, the Canada Border Services Agency had argued the migrants should be held until their identities could be confirmed," Faber told AFP.
"The grounds for detention have changed from identity to security in a lot of the cases," she said.
"We just don't know yet which of the men are linked to the Tamil Tigers and which aren't. We're still sorting it out."
A spokesman for Canadian Immigration Minister Jason Kenney has said the government will seek to deport any of the group found to have "terrorism or organized crime links."
The LTTE, popularly called the Tamil Tigers, fought a brutal separatist war against the Sri Lanka government from 1976 until it was defeated last May.
(For updates you can share with your friends, follow TNN on Facebook, Twitter and Google+)