On Sri Lanka, UN's Cammaert's Visit Now December 5, Council Lauds Basement Meetings
The mission to Sri Lanka by the UN's Patrick Cammaert, which had been set for early November until the Rajapaksa administration changed its mind, is back on the schedule to begin December 5, Inner City Press has learned.
Seeking confirmation from Sri Lanka's Ambassador to the UN Palitha Kohona on November 4, Mr. Kohona said yes it is set, "the visa will be issued in due course, we have confirmed the visit." He added, in response to Inner City Press' question about Sarath Fonseka, that Fonseka "has gone back," has left the United States. He was not questioned by the U.S. State Department about the Department's recent report on crimes of war in Sri Lanka this year.
In response to a question from Inner City Press, the UN's Radhika Coomaraswamy last month disclosed that Caemmart would be going to Sri Lanka at her request. Inner City Press was later told that the visit was postponed, and reported that. Some requested that Inner City Press withhold publication, as Sri Lanka might retaliate even at the coverage. Now the visit is back on, and confirmed by Sri Lanka's Ambassador. One assumes this will not change.
As Austria takes over the presidency of the UN Security Council for November, its Ambassador Thomas Mayr-Harting has spoken on and off camera about the benefits gained by the Council's so-called basement meetings on Sri Lanka earlier this year.
   As previously explained by now-gone UK Ambassador to the UN John Sawers, no procedural vote to put Sri Lanka on the Council's formal agenda was ever called for, and now the Council does not follow-up, even as IDPs remain trapped in closed camps, refugees flee and humanitarian NGOs face expulsion.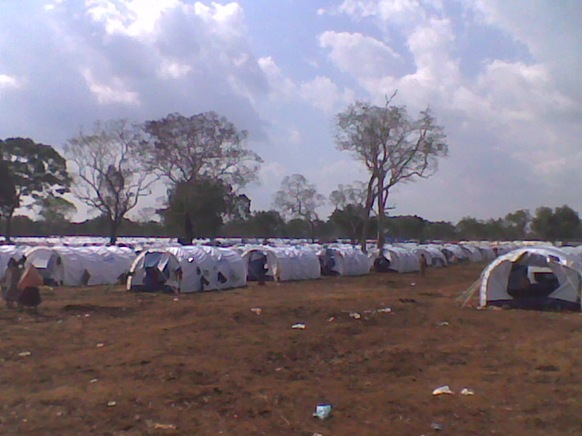 In Sri Lanka, overcrowded IDP tents, Council's basement meetings not shown
Inner City Press asked, in light of the reports of war crimes, what the benefit was of keeping Sri Lanka off the agenda. Video here, from Minute 34:41. As summarized by the UN's own Department of Public Information
"Sri Lanka, [Mayr-Harting] said, turning to another question [by Inner City Press], which was not included in this month's programme of work. When the situation came up, there had been an option to force an open debate. However, the Council had chosen for another format of meeting which had resulted in some important messages to all sides to the conflict, including the Government conducting a legitimate fight against terrorists, that international law had to be respected. Those messages had been heard. Those messages would have been impossible, had one not agreed on the special format."
After this answer, given at a mid-day briefing on November 3, Inner City Press understands that Sri Lanka's Kohona discussed it with Mayr-Harting. Sri Lanka has become even more vigilant, or overbearing as some see it, than for example Sudan, both in the face of war crimes charges. Watch this site.
Footnote: in a spirit of completeness, we wish to note that Sri Lanka was recently ranked in the top twenty of countries for gender equality in work. So there.
* * *
Is Sri Lanka Postponing Visit of UN's Caemmart Retaliation? UN Claims Photo-Op Was Disclosure
By Matthew Russell Lee
UNITED NATIONS, October 20 — The Sri Lankan government is already delaying the visit of the UN's Patrick Cammaert, announced a mere week ago as starting in early November. In response to questions from Inner City Press last week, UN Children and Armed Conflict expert Radhika Coomaraswamy disclosed for the first time that the government had agreed to an early November visit by Mr. Cammaert, formerly with the UN Peacekeeping Mission in the Congo.
Yesterday, Inner City Press reported that sources told it the visit would be delayed. Tuesday it was authoritatively and multiply confirmed to Inner City Press, that the government has pushed the date back to November 23 — a time which currently doesn't work for Mr. Cammaert.
The government's pretext for the delay is that it is moving some of the youths from one camp to another. These moves are of course within the control of the government, and it is not at all clear that the government didn't know about its move last week.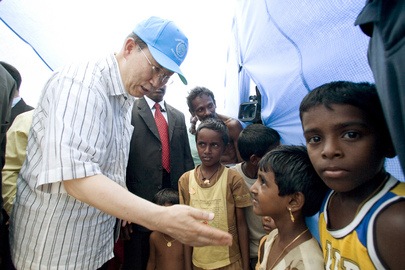 To some, the postponement seems a heavy handed reaction to Ms. Coomaraswamy having said anything publicly about Cammaert's trip. Then again, Inner City Press' sources for yesterday's item now say that the government is dangling the possibility of reinstating Cammaert. It is called trying to control the UN's speech: quite successfully, of late.
Footnote: following yesterday's piece which questioned why Ban Ki-moon's Spokesperson did not last week in lengthy noon briefing read-outs mention anything about Ban's meeting with the Sri Lankan minister, the Spokesperson points to the listing of a photo-op between the two. Inner City Press, which had seen that before publishing yesterday's not inconsistent piece, has asked for a copy of Ban's Daily Schedule for October 12, for an on the record answer as to why the Spokesperson's Office does not archive Ban's daily schedule and an explanation of how it is decided which of the S-G's meetings and calls are presented in the initial parts of noon briefings or in writing, and which are only summarized if someone knows to ask. Watch this site.
(For updates you can share with your friends, follow TNN on Facebook, Twitter and Google+)