Sri Lanka general avoids US questioning: ministry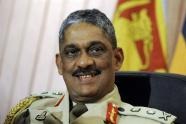 The head of Sri Lanka's military has been allowed to complete a US visit without being questioned over alleged war crimes against Tamil civilians, the foreign ministry here said on Wednesday.
In a statement, the ministry praised US authorities' "receptive and constructive attitude," which allowed General Sarath Fonseka to complete his visit without being quizzed by the US Department of Homeland Security.
Fonseka holds US permanent residency and travelled to Oklahoma last week to visit his daughters.
Sri Lanka had said it feared the Department of Homeland Security would try to force Fonseka to provide evidence against Defence Secretary Gotabhaya Rajapakse, who holds US citizenship, over alleged human rights violations.
The defence secretary is the younger brother of President Mahinda Rajapakse.
Sri Lankan troops in May killed the leaders of the Tamil Tigers, ending one of Asia's longest-running and bloodiest insurgencies, which aimed to create a separate homeland for the island's Tamil minority.
A US State Department report presented to Congress last month charged that both the government and Tamil Tigers committed serious human rights violations in the final months of the conflict.
Fonseka was mentioned in the US report, which was initially dismissed by Colombo as "unsubstantiated," although the Sri Lankan government later promised to have the charges investigated.
Legislator Samantha Vidyaratne welcomed Fonseka's imminent return, telling parliament: "In the same way this brave soldier rid the country of terrorism, he is now on his way home without betraying the nation."
The US dossier cited reports that government troops or government-backed paramilitaries "abducted and in some instances then killed Tamil civilians, particularly children and young men".
It also alleged that surrendering senior rebel officials were executed in cold blood, a charge denied by the Sri Lankan military.
The report covered the period from January — when fighting intensified — until the end of May, when Sri Lankan troops finally defeated the Liberation Tigers of Tamil Eelam (LTTE).
(For updates you can share with your friends, follow TNN on Facebook, Twitter and Google+)