Happy Birthday Kamal Haasan!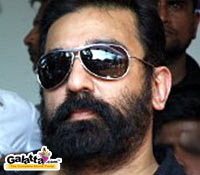 Kamal Haasan is the undeniable true ultimate hero of Indian cinema!
He is celebrating 50 years of cinema this year, which is no mean achievement. He made his silver screen debut when he was just five years old and stole a million hearts with his innocence and angelic charm. Cinema warmly wrapped its arms around him then and there, and he returned the embrac. He has relentlessly pursued the art for 50 long years and the best part is that, neither he nor cinema has tired of each other.
He has several goals set for himself, and there is absolutely no stopping the man. His every achievement has been a milestone in Indian cinema. For the world that knew Indian cinema only through Bollywood, Kamal Haasan's unparalleled acting and intense efforts have opened their eyes to Tamil cinema as well. Irrespective of success and failure, Kamal has always striven to deliver innovative and often revolutionary ideas, and that's precisely what sets him apart from the rest. And today as he celebrates his 55th Birthday.
(For updates you can share with your friends, follow TNN on Facebook, Twitter and Google+)