Lanka admits rights violations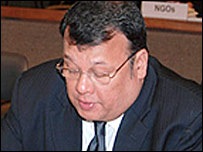 The Sri Lankan government has admitted that it has room for improvement on its human rights record.
The admission comes two weeks after two foreign reports, by the European Commission and the US State Department, subjected it to strong criticism in the rights field.
Both before and since its victory in the civil war last May, the Sri Lankan government has been defensive on human rights matters.
A few weeks ago, as it was preventing European Union rights researchers from entering the country, one minister said Sri Lanka had "no human rights issues".
Action plan
But now the human rights minister, Mahinda Samarasinghe, has been unusually candid in admitting that the government wants to "get to a better position" on rights.
He named several areas which he says they're investigating in drawing up an action plan.
"Whether it be torture, whether it be an issue on disappearances, an issue on extrajudicial killings, promotion and protection of women and children – there is a whole variety of issues we are addressing in this National Action Plan," Minister Samarasinghe said.
His remarks appear to be a response to last month's strongly worded report on rights in Sri Lanka by the European Commission.
It said that unlawful killings by the police, soldiers and pro-government paramilitaries were a major problem; so too were torture and disappearances.
It also said the police were unwilling or unable to investigate violations.
The commission report said existing emergency regulations – which have just been renewed for another month – enabled arbitrary detentions not subject to effective review.
The foreign ministry has now delivered a formal response to the European report but it has not been made public.
(For updates you can share with your friends, follow TNN on Facebook, Twitter and Google+)