Who were the original terrorists in Sri Lanka?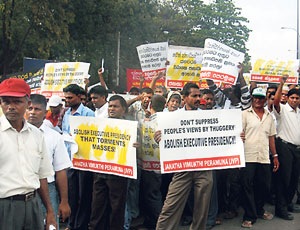 It was the Janatha Vimukthi Peramuna (JVP) that introduced terrorism to Sri Lanka, on April 1, 1971. All of them were Sinhalese. They killed citizens and policemen, overturned buses and set fire to property. They did not allow funerals to be held for their victims, saying that anyone who disobeyed their orders would also be killed. Many of us have forgotten all this.
The young generation should be made aware of the JVP's past. The party's present leaders seem to think they will live forever. When they die, the public will have reason not to carry their coffins.
When the LTTE war was raging, our soldiers fought on with commitment, sometimes going without sleep and food or a change of uniform for days. With all the difficulties they faced, they never went on strike.
When a country that was in danger of being divided is now engaged in rebuilding a battered nation, why are people resorting to strikes, and for whose benefit?
(For updates you can share with your friends, follow TNN on Facebook, Twitter and Google+)