Australia tackles refugee source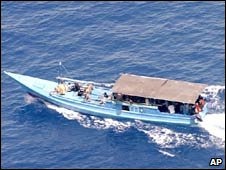 The Australian foreign minister, Stephen Smith, is to meet senior Sri Lankan leaders in Colombo to discuss ways of tackling people-smuggling.
His visit comes amid a stand-off in Indonesia involving nearly 80 Tamil asylum seekers.
They are refusing to leave an Australian vessel that rescued them last month.
The Australian authorities say the end of the conflict in Sri Lanka has led to a surge in Tamil asylum seekers.
The arrival of many asylum seekers, including Sri Lankans displaced by the civil war, has become a controversial political issue in Australia.
Stopping at source?
The government in Canberra has been criticised by the opposition for being too soft on the issue of asylum seekers.
Now, Australia wants the Sri Lankan government to do more to control the flow of Tamil civilians leaving the island nation.
The visiting Australian foreign minister's talks with his Sri Lankan counterpart Rohitha Bogollagama will be on ways of tackling people smuggling.
He has called on the Sri Lankan government to embrace political reforms and reconciliation as a way of securing lasting peace, following its defeat of the Tamil Tiger rebels in May this year.
Mr Smith also urged the Colombo authorities to accelerate the resettlement of tens of thousands of Tamil civilians displaced by the war and now confined in government-run camps in the north.
The measures, Australia hopes, will reduce the number of Sri Lankans leaving the country.
(For updates you can share with your friends, follow TNN on Facebook, Twitter and Google+)