Trouble at the top in Sri Lanka?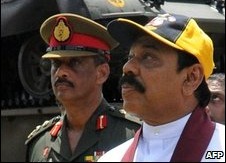 Speculation continues to grow in Sri Lanka that there is a rift at the top of the country's establishment.
It is said to pit the armed forces chief, Gen Sarath Fonseka, against two ultra-powerful brothers, the president and the defence secretary, Mahinda and Gotabhaya Rajapaksa.
One apparently contentious issue is who should take the credit for the government's all-out victory last May against the Tamil Tigers.
The government says there is no spat. But, fuelled by remarks and events, the speculation continues.
Since he was promoted from army chief to armed forces chief in July, there have been reports that Gen Sarath Fonseka was being sidelined.
Some observers saw the newly created post of chief of staff as a ceremonial sinecure, although the government denies this.
The speculation increased when the news emerged that he had been offered the job of secretary to the sports ministry, but had rejected it. It was not seen as a prestigious offer.
Last month the military spokesman said allegations of differences between the government and the general were "not true" and that to report otherwise was "illegal".
Yet days earlier, the government broadcasters and websites had all ignored a speech Gen Fonseka gave to the army for its 60th anniversary, in which he stressed his own role in the military victory.
Presidential candidate?
There is no open quarrel. But each side's comments do seem telling.
In a speech two weeks ago, Gen Fonseka said that people in Colombo who "hold responsibilities" had forgotten the importance of the army in the war victory.
But government ministers and deputies have been making pointed remarks of a different kind – for instance, that in Sri Lankan history it was kings, not soldiers, that won wars; or that military rule in Pakistan (a close friend of Sri Lanka) had left that country "in a total mess".
That is relevant because there are growing indications that the general may seek to enter politics as a presidential candidate against Mahinda Rajapaksa after quitting his military post. The election is due before April.
This would be an intriguing prospect. Gen Fonseka is a strong Sinhalese nationalist, who in a Canadian newspaper interview last year was quoted as saying that "this country belongs to the [majority] Sinhalese" although minorities must also be treated "like our people".
Yet a Tamil politician in the newly formed opposition coalition, Mano Ganesan, has told the BBC that opposition parties may support Gen Fonseka as a candidate for a limited term as they cannot see any other way of ousting Mr Rajapaksa – also widely regarded as a Sinhalese nationalist.
The opposition leader, Ranil Wickremesinghe, says he has set out preconditions for the general to be acceptable as a candidate. These would include giving government portfolios to the Tamil National Alliance, a pro-Tamil Tiger parliamentary group.
To many, such a possibility seems scarcely credible.
There was a further twist last week when the Sri Lankan government alleged that the US government had sought to use Gen Fonseka to testify against the defence secretary, Gotabhaya Rajapaksa, over war crimes allegations.
The Americans declined to comment but the government hurriedly called a news conference to say the general was not allowed to divulge privileged information to third parties.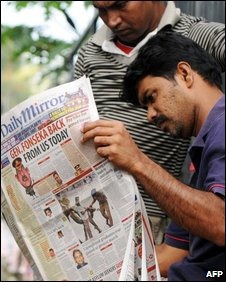 Asked by the BBC whether there was a split between the general and the defence secretary, Sri Lanka's foreign minister, Rohitha Bogollagama, said "I don't think so" but did not elaborate.
President Rajapaksa has not commented directly on the possibility of having Gen Fonseka as an electoral rival. Speaking on state television this week, he said the general was "a military officer under my command – the most senior" and he had nothing further to say.
His brother Gotabhaya said in the same broadcast that the public must not engage in acts that would "divide the military".
'Suicidal move'
Some government supporters are getting anxious, with newspaper columnists urging the general not to stand and Buddhist religious organisations telling him not to "fall prey to national and international conspirators".
An ultra-nationalist politician, Wimal Weerawansa, said the general should not "make any suicidal move that would tarnish his image".
It has not been possible to speak to the general recently. It is unclear exactly what his own thinking is, although opposition politicians say his associates have been in contact with them.
If he does stand, the opposition would be trying to meet the government on its own territory – contesting the election with the war victory as a central issue, rather than other everyday issues which do seem to be gaining in importance.
It would be mainly a battle for the Sinhalese vote, with many members of minorities left with the option of casting some kind of protest vote or not voting at all.
(For updates you can share with your friends, follow TNN on Facebook, Twitter and Google+)