With Sri Lanka Ignored in UN Debate, Austria Speaks of Proposal, UN's Holmes Moves On
Austria's foreign minister Michael Spindelegger, answering questions Wednesday from Inner City Press outside the Security Council debate he presided over on the protection of civilians, proclaimed that Austria has "made a proposal" to Sri Lanka to bring "the government side and the Tamil side together" at one table. "We have not real answer at the moment," he said.
In his initial comments, Minister Spindelegger praised the UN's work in Africa, without mentioning the controversy now surrounding the UN's work with the Congolese Army. Inner City Press asked about Asia, not only Sri Lanka but Myanmar, where armed conflict continues, with child soldiers and Rohingya people taking to the sea.
Spindelegger said, "This was not part of the discussion, especially Sri Lanka, during our meeting of the Security Council." Then, "as Foreign Minister of Austria," he said "we are very concerned about the situation in Sri Lanka… huge numbers of refugees still in camps and not allowed to go home." Video here, from Minute 4:43.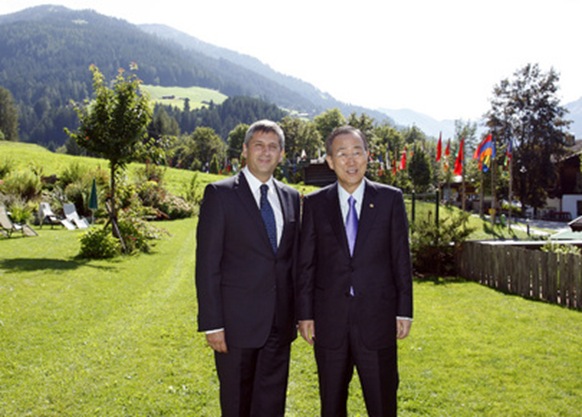 Austria's Spindelegger and UN's Ban all rosy, Sri Lanka not shown
Even those who leave the Manik Farm camp in Vavuniya, it was today confirmed, are taken to other closed camps, or quickly picked up again by the authorities. So what is the UN doing to protect these civilians?
As Austria, Spindelegger said, they are offering a "platform" for "the Tamilian side" to speak with the government. Another journalist asked for more detail and Spindelegger spoke about bringing the parties to "one table… we try to do our best." Video here, from Minute 7:05.
After Foreign Minister Spindelegger's stakeout interview, Austria's Ambassador Thomas Mayr-Harting advised Inner City Press not to read too much into Spindelegger's statement about having made "a proposal" to the Sri Lankan government. Given the way the Norwegians, for example, feel they were burned by the process, this is perhaps understandable.
But the fact remains, at the UN on Sri Lanka, there is double talk, there are claims of assistance and concern that are not back up, and increasingly there is silence. Protection of civilians indeed.
(For updates you can share with your friends, follow TNN on Facebook, Twitter and Google+)