S Lanka army head told to go now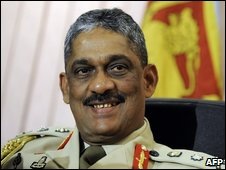 The Sri Lankan government has granted permission to the country's most senior military officer, Gen Sarath Fonseka, to retire with immediate effect.
Presidential Secretary Lalith Weerathunga said the general should leave his post before his preferred departure date of 1 December.
An official confirmed to the BBC a letter had been sent to the general.
Gen Fonseka quit on Thursday. He has reportedly said he left as he no longer trusted the government.
He outlined his reasons in a long resignation letter to President Mahinda Rajapaksa that has been published in full in many Sri Lankan newspapers and online publications.
The general said that he was made to understand that the new post to which he had been appointed – chief of defence staff (CDS) – was a position of authority – but he was misled.
He also expressed serious concern over the government's "continuous suspicion" that the military was planning a coup to overthrow it.
The Indian military was recently put on high alert after the Sri Lankan government informed it of a possible coup attempt, according to the Sri Lankan Sunday Times.
The general – in defiance of his reputation as a strong Sinhala nationalist – expressed concern over the plight of nearly 200,000 internally displaced people (IDPs) still living in camps in northern Sri Lanka.
"The plight of the IDPs is also a point of great concern to me," the letter said.
He said that he had led the military to victory against the Tamil Tiger rebels in May – under the president's political guidance – and accused the government of failing to capitalise on the victory.
"Your Excellency's government has yet to win the peace in spite of the fact that the army under my leadership won the war," it said.
(For updates you can share with your friends, follow TNN on Facebook, Twitter and Google+)