Sri Lanka's President Rajapaksa 'feared coup' after defeat of Tamil Tigers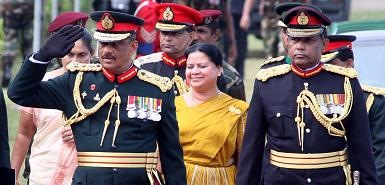 President Rajapaksa of Sri Lanka was so afraid of a military coup after the defeat of the Tamil Tigers that he warned India to place its troops on high alert as recently as last month, according to the former head of the Sri Lankan Army. General Sarath Fonseka, who led the victorious campaign against the Tigers only to be sidelined two months later, made the allegation in a bitter resignation letter, seen by The Times yesterday.
General Fonseka, who was switched to the largely ceremonial role of Chief of Defence Staff in July, said the Government alerted India on October 15 that a coup was imminent, "unnecessarily placing Indian troops on high alert".
"This action tarnished the image and reputation gained by the Sri Lankan Army as a competent and professional organisation capable of defeating a terrorist group," he said.
After resigning, General Fonseka is now expected to challenge Mr Rajapaksa in a presidential election due by April.
His letter drew no immediate response from Indian officials, while a Sri Lankan minister said only that the Government would study its contents. "The President has ordered a study of [Fonseka's] letter and we will make a suitable response," Mahinda Samarasinghe, the Human Rights Minister, told reporters.
Although the letter does not specify what action Mr Rajapaksa wanted India to take, the implication was that its troops should intervene in case of a coup.
India sent peacekeeping troops to Sri Lanka in 1987, but they were soon drawn into the fight with the Tigers, and withdrew in 1990. The Tigers then assassinated Rajiv Gandhi, the former Indian Prime Minister, in 1991.
The General's letter reveals for the first time the rift that developed between the Army and Government after the end of the 26-year civil war in May.
It also adds to the charged political atmosphere in Sri Lanka since General Fonseka emerged as a potential challenger to Mr Rajapaksa, who has been riding a wave of popularity since the war ended.
General Fonseka is considered a national hero by most of the ethnic Sinhalese majority community and is therefore likely to split the ruling alliance's support base in the elections.
Although he has a reputation as an outspoken Sinhalese nationalist, he criticised Mr Rajapaksa for failing to make peace with the ethnic Tamil minority since the Tigers' defeat.
(For updates you can share with your friends, follow TNN on Facebook, Twitter and Google+)