Mahinda Rajapaksa likely to play for time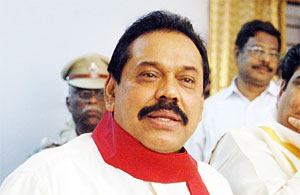 At the Sri Lanka Freedom Party (SLFP) convention here on Sunday, party chief and Sri Lankan President Mahinda Rajapaksa clearly indicated that he was not in a hurry to accept the workers' clamour for a snap Presidential election to quickly eliminate the threat from war hero Gen Sarath Fonseka, who is likely to be the joint Opposition candidate.
Rajapaksa wondered why he should give up two years of his first term by going in for reelection now or in the next few months. He then said that he would put the party workers' views before the appropriate decision making body.
Political circles noted that if he wanted, he could have assented to the demand for a presidential poll there and then. But he did not.
Political circles here explain Rajapaksa's caution to a desire to let time defuse any public enthusiasm there may be about the candidature of war hero Fonseka. Knowing that the group supporting Fonseka is rag tag and driven by contradictions, Rajapaksa expects his opponent to lose credibility soon. But he himself would be busy using state power to expand and buttress his support base. Rajapaksa hopes to finish this by April 2010, when parliamentary elections are due by law.
Rajapaksa knows that while a presidential election will unite the Opposition, a parliamentary election will divide it. According to The Island he might hold the parliamentary election first, when it is due. If the results were favourable, he would go for a presidential election.
BUTTRESSING DOMESTIC BASE: With an eye on the elections, Rajapaksa has brought down the prices of essential commodities. To get the votes of the Northern Tamils, the government has announced that Japan had given US $ 11 million; the EU Euro 12 million and the ADB $ 250 million for the development of Vavuniya district alone. A modern sewerage treatment plant is to be started at a cost of $ 18 million by OXFAM.
(For updates you can share with your friends, follow TNN on Facebook, Twitter and Google+)