Manoj to remake Sigappu Rojakal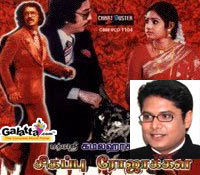 Well, everybody is doing it, so why not Manoj? And after all, Sigappu Rojakal was made by his father, which gives him all the more reason to pick it and give it a new look!
Sigappu Rojakal was one of veteran director Bharathi Raja's rare non-rural flicks that went on to become a super duper hit. It tells the story of a young man, who in his adolescence, is wronged by two women – a cantankerous mother and the girl next door who tries to seduce him and turns the tables on him when the two are caught together. He flees from there, only to be taken in by a kindly couple, where the wife turns out to be cheating on her husband. Believing that all women are cheats, he decides to destroy as many of them as possible.
A rather disturbing tale, but with Kamal playing the anti-hero, Sridevi his lady love, and Ilayaraja making some amazing music, the movie was a big success with the audience. And now Bharathi Raja's son, Manoj, who had a rather average acting career, has decided to bank on papa's genius!
(For updates you can share with your friends, follow TNN on Facebook, Twitter and Google+)