Tamil rebels face doubtful future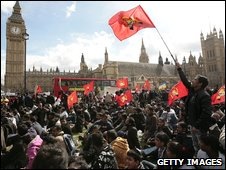 It is six months since the end of the conflict in Sri Lanka but Tamil Tiger rebels and their supporters are yet to recover from the dramatic military defeat by security forces earlier this year.
The recent attempts by remnants of the Liberation Tigers of Tamil Eelam (LTTE) abroad to revive the movement have not succeeded so far.
Now questions are being raised over the future of its international network and millions of dollars worth of assets spread across continents.
It is a dramatic reversal of fortune for the LTTE, once described as one of the most powerful guerrilla movements in the world which almost had a de facto state and its own naval and air wings.
More than 10,000 suspected Tamil Tigers and their supporters, arrested in the aftermath of the offensive, are detained in military-run camps in the island's north.
The Sri Lankan government says it wants to hold special trials for LTTE fighters, especially for the leaders, now under detention.
Tamil hopes
In the absence of an active presence inside Sri Lanka, many Tamils believe rebel leaders living abroad can play a role in reinvigorating the group. But their hopes seem to be fading away.
"The LTTE's overseas network is in a state of flux. The structures remain but it no longer appears cohesive or centrally controlled," says Canada-based Sri Lankan analyst DBS Jeyaraj.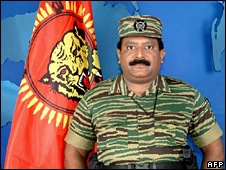 The group's leader, Velupillai Prabhakaran, and his senior aides were killed in the final military assault on their stronghold in north-eastern Sri Lanka in May this year.
Under the present circumstances, very few people believe that the group can revive militarily within Sri Lanka in the near future.
Although the Tamil Tigers suffered a crushing blow within Sri Lanka their international network has largely remained intact. Until May, the structure was directly controlled by senior leaders based in northern Sri Lanka.
Tamil Tiger supporters hoped that rebels living abroad could revive the organisation and continue with their activities, at least in foreign countries.
But the dramatic arrest of their new leader, Selvarasa Pathmanathan, from a south-east Asian nation in August dealt a severe blow to their hopes.
Soon after his arrest, the Sri Lankan defence ministry said intelligence agencies in several countries were looking for a number of high-profile Tamil Tiger operatives.
Fearing that Mr Pathmanathan may reveal their names, many senior leaders of the LTTE living abroad have either gone underground or are lying low for fear of being arrested and taken to Sri Lanka.
Transnational government
On the other hand, a section of the LTTE leaders and supporters based in North America and western Europe have been trying to form a government in exile to press for their political demands.
For any such effort to succeed, the support of the LTTE's overseas network is considered crucial. For years, it provided much needed financial resources and carried its propaganda through well-oiled media machinery.
This overseas network was instrumental in collecting funds, managing investments, buying sophisticated arms and clandestinely transporting them to Tamil Tiger-held areas in north-eastern Sri Lanka.
Tamil Tiger investments overseas are said to range from grocery shops to real estate, from petrol stations to Hindu temples, from commercial shipping to financing movies in India.
Tamil Tigers are also believed to own commercial centres in many cities including Toronto, London and Paris.
In addition, they were collecting money every month from their supporters and sympathisers abroad, many of whom paid through direct debit from their bank accounts.
But most of these activities were carried out under false names, as the rebels were banned in many countries around the world.
The estimates about the LTTE's assets and investments range from $500m to $1bn.
Infighting
Now there are reports of intra-factional rivalry within the LTTE to wrest control of the organisation as well its assets. This has led to disenchantment and confusion among LTTE supporters.
"When the rebels were collecting money earlier they had a purpose. Now Tamils are questioning what they will do with the money. They also want the two competing groups to come together to highlight the Tamil cause," says Shan Thavaraja, an exiled Tamil journalist based in Switzerland.
Also, there have been reports that some LTTE sympathisers and activists living abroad whose names were used to own businesses and buildings for the movement are slowly taking control of those businesses for their own benefit.
Many Tamils living abroad are worried this trend is likely to increase as overall knowledge about rebel assets was restricted to very few leaders, most of whom were killed during the conflict.
Although regular monthly contributions from ordinary individuals have decreased, many die-hard supporters are still willing to make donations.
Some LTTE sympathisers say prominent rebel supporters, who are lying low at the moment, will not hesitate to revive the organisation if the conditions become viable. They say it all depends on developments back in Sri Lanka.
Tamils living abroad believe that only a concerted global campaign can put pressure on the Sri Lankan government to allow the hundreds of thousands of civilians displaced during the war to return to their homes. The civilians are now confined in government-run camps in northern Sri Lanka.
They want the LTTE to regroup if only to launch massive campaigns in Western capitals highlighting the plight of war-displaced Tamil civilians. But the in-fighting seems to have dented their hopes.
(For updates you can share with your friends, follow TNN on Facebook, Twitter and Google+)