Gen Fonseka faces Ranil's PM rider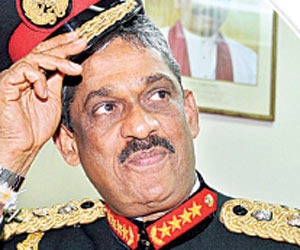 The unease in the Sri Lankan Opposition in naming General Sarath Fonseka as their joint candidate for the Presidential elections against President Mahinda Rajapaksa, continued with UNP leader Ranil Wickremesinghe laying down a fresh set of tough conditions before the retired general.
The UNP boss told the media that Fonseka must agree to abolish or drastically prune the powers of the Executive President; appoint him (Wickremesin­ghe) as the prime minister; give important Cabinet portfolios to the then pro-LTTE Tamil National Alliance (TNA) and the Marxist-Sinhalese nationalist Janatha Vimukthi Peramuna (JVP); and implement the 17th Amendment of the Constitution, which de-politicises important public appointments by taking them away from the purview of the President.
Political circles wonder how Fonseka would be able to suddenly appoint Wickremesinghe as the prime minister without the United National Front, an electoral alliance which he heads, being the majority group in Parliament, and how it could become a majority group without going through parliamentary election first.
Second, if the TNA is to be included in the Cabinet, what kind of promises will Fonseka have to make to the Tamils? The Tamils, both moderates and extremists, want freedom of movement, and devolution of power. Fonseka has made it clear in his resignation letter to the President that he is against resettling Tamil refugees in their native villages without adequate security forces deployment to check LTTE infiltration. In previous interviews, he has said that devolution is not the answer to Sri Lanka's ethnic question and the island belongs to the Sinhalese Buddhists.
Third, assuming that Fonseka gives in to the Tamils or the TNA, how will he satisfy the JVP, which is opposed to all the Tamil demands? How can the TNA and JVP co-exist in Fonseka's cabinet?
(For updates you can share with your friends, follow TNN on Facebook, Twitter and Google+)