'Sri Lanka has released half of war-displaced'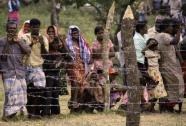 Sri Lanka has released more than half of the thousands of displaced civilians held in government camps after the end of the country's ethnic conflict earlier this year, a minister said Friday.
"We feel the security situation has eased considerably now to allow people to return to their homes," Human Rights minister Mahinda Samarasinghe told reporters here.
He said 136,328 men, women and children still remained inside camps across the island's north, down from some 280,000 at the end of the fighting in May with the defeat of Tamil Tiger guerrillas.
A batch of 41,000 people were allowed to leave the camps in October, making it the biggest single release of war displaced people held in camps, according to official figures.
Samarasinghe said the government will make a formal announcement on Saturday about giving free access to displaced people to leave the camps which were tightly guarded by security forces.
"While I am fully aware of the undesirability of keeping civilians in camps unnecessarily for long periods, the government is not convinced that it is good policy to rush them into areas that have not been fully cleared," he said.
He said over 1.5 million mines need to be cleared and basic infrastructure needs to be in place to allow returnees to resume their normal lives.
"Be patient, we will get most of the people home by end January next year," he said.
On Thursday, UN under-secretary general for humanitarian affairs, John Holmes stepped up pressure on Colombo to free civilians held in internment camps and urged the government to improve their living conditions.
"Months after the conflict ended, our main concerns haven't changed. People are still not given free access to leave these camps on their own free will," Holmes told AFP after a visit to the camps on Thursday.
(For updates you can share with your friends, follow TNN on Facebook, Twitter and Google+)