Sri Lanka top general signals bid for presidency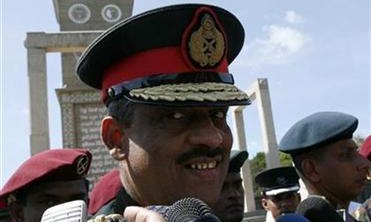 Sri Lanka's top general, who quit amid speculation he could run for president, pledged on Friday to fight for democracy and human rights after the end of a 25-year separatist war, suggesting he would soon announce his candidacy.
General Sarath Fonseka, widely credited for the army's role in defeating the Tamil Tiger rebels in May, urged the army to rebuff any bid to politicise it.
"Don't allow anybody to tarnish the reputation of the army and politicise the military," Fonseka said in a letter addressed to soldiers and their families and made public on Friday.
"We should keep in mind that we are the real owners of the war victory even though certain people try to insult us."
Fonseka, expected to announce his candidacy this week, pledged to uphold democracy and human rights, areas in which the opposition and Western nations say the administration of President Mahinda Rajapaksa has done too little.
"Despite any hurdle that may come my way, I assure you that I will stand by to protect democracy, human rights, media freedom, social equality and ethnic harmony, which are fading away from the motherland, and to protect the nation's integrity for a better future for you," he said in the letter.
Fonseka stepped down last week from the post of Chief of Defence Staff (CDS). He accused Rajapaksa of unjustly sidelining him over unfounded fears that a coup was being planned.
The army chief and Rajapaksa's government have since said it was the country's top politicians who helped secure victory over the Tigers, discounting Fonseka's role in ending the conflict that killed more than 80,000.
Political analysts say the 39-year army veteran, who oversaw a 34-month offensive to defeat the rebels, could split Rajapaksa's voter base and capture the votes of Sri Lankans happy that the conflict is over.
The main opposition United National Party and the Marxist Janatha Vimukthi Peramuna have, despite widely differing ideologies, suggested they will jointly back Fonseka as a candidate able to overcome Rajapaksa's post-war popularity.
On Sunday, the president dodged an expected announcement of dates for early presidential and parliamentary elections due by April without giving a reason.
(Editing by Sanjeev Miglai and Ron Popeski)
Sri Lanka top general signals bid for presidency | World | Reuters
(For updates you can share with your friends, follow TNN on Facebook, Twitter and Google+)