Tamil activists' shock on return to Jaffna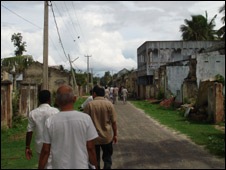 It has been six months since the end of the armed conflict in Sri Lanka, but normality has yet to return to the Tamil cultural heartland of Jaffna, activists and former residents say.
Groups of former Tamil residents and media activists recently visited Jaffna.
It was an emotional and nostalgic journey for Nirmala Rajasingham – the first woman to be detained under Sri Lanka's anti-terror laws in 1982 – when she visited her home town after nearly three decades.
The former senior LTTE (Liberation Tigers of Tamil Eelam) member used to be known as Nirmala Nithyanandan.
She escaped from prison in 1983 to India and then made it to UK where she has been living since.
'Deaf and blind'
Ms Rajasingham, whose sister Rajani Thiranagama was shot dead by the Tigers, says there are still many concerns over human rights violations despite the end of the conflict with the rebels.
"People whom I spoke to are extremely happy that the LTTE is defeated," she told BBC Sinhala upon her return to London from Jaffna.
"But many say their friends and relatives who were with them the previous day suddenly disappeared the next. Many people behave like deaf and blind as they no longer have a voice."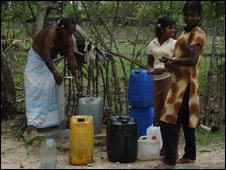 After years of changing hands between the security forces and the LTTE, the government re-captured Jaffna in 1995.
Mostly Tamil Jaffna has a small Muslim minority and virtually no members of Sri Lanka's majority Sinhalese community as a result of years of war.
Historically, it is a place that has produced men and women who have achieved distinction in art, literature and other aspects of life.
But that active society is no longer seen, says Ms Rajasingham.
"People in Jaffna plan for the future – trying to send their children for higher education, getting their children married or trying to build a house. Jaffna people go about it with such vigour, but I couldn't see that happening any more.
"In fact, people look like they are living day by day, as if there is no future for them."
Special permits
Her comments were echoed by a group of 25 Sinhala, Tamil and Muslim journalists and activists who visited Jaffna last week.
"It was like visiting another country," says Ananda Jayasekara, who works for Transparency International Sri Lanka.
"You need a special permit, it is like getting a visa, to enter Jaffna and it is only valid for a month."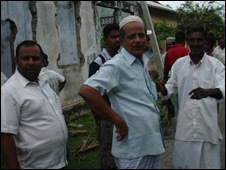 The unusually high cost of transport makes one suspicious over the motives of the authorities, he says.
The return air ticket costs 25,000 Sri Lankan rupees ($220), a price most Sri Lankans cannot afford.
Mr Jayasekara says it appears that Tamil and Muslim communities are yet to make any serious attempts at reconciliation, although it has been more than a decade since Jaffna was recaptured by government forces.
'Authoritarian'
Ms Rajasingham's husband, Rajesh Kumar, had also not seen Jaffna for 30 years until he travelled to his home town recently.
Rajesh Kumar, also known as Raghavan, was among the first five founding members of the LTTE, then known as the Tamil New Tigers, together with Velupillai Prabhakaran in 1974.
Although initially part of the rebel movement, the couple were later staunch opponents of the LTTE.
"While travelling to Jaffna, all I saw was huge destruction," Rajesh Kumar said.
He accuses the Sri Lankan government of behaving in the same authoritarian way as the Tamil Tigers in his former home town.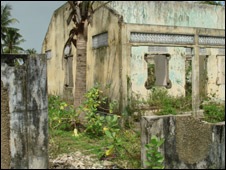 "You need to wait at least three hours to board the plane. And all the buses only leave once a day, so that security officials could check the buses at once and relax for the rest of the day," Mr Kumar says.
"The biggest mistake of the Tamil Tigers was not to allow any other Tamil voice to operate in their territory.
"But the irony is that the government is now behaving in the same way as the Tamil Tigers, and I could not see any attempt at reconciliation or to create a vibrant democratic society in Jaffna," he said.
Critical
Another former Tamil militant from Jaffna currently living in the UK also went back recently. He did not want to be identified.
"I arrived in Jaffna and took a bus to Nelliadi, my home town, and then walked about a kilometre to my village, Vadiri. A few cyclists passed by, but I did not recognise any of them."
His ancestral house – once home to 11 brothers, a sister and his parents – is currently being used as timber storage.
"The house legally belongs to my younger sister, who is currently living in the UK. She is no longer interested in claiming it back, and neither am I."
All former Jaffna residents have been highly critical of what they say is a lack of any genuine effort to reconcile the area's communities after decades of civil war.
The Sri Lankan government, however, says that it has launched a major redevelopment project called the "Northern Spring" in the area.
(For updates you can share with your friends, follow TNN on Facebook, Twitter and Google+)