Ready for big battle: Rajapaksa vs. Fonseka
President Mahinda Rajapaksa is set to sign a proclamation tomorrow evening declaring a Presidential Election. Nominations are to be called within two weeks after tomorrow, possibly on December 9 or 10. After six weeks of campaigning, the polls are now likely on January 23.
Despite his firm insistence on having a Presidential Election first, Rajapaksa was under heavy pressure up to yesterday to opt for a General Election. Protagonists for the move argue that such a poll would give him several options. In the event of a defeat of the UPFA Government, he would retain the prospect of winning over some of the victors to form a Government. He was also entitled constitutionally to appoint Ministers and would retain the right to dissolve Parliament after one year. They argued that he would lose these options otherwise.
Pressure moves for a General Election grew this week after close associates of Rajapaksa discerned that the Presidential poll would be a tough fight. This is with the formidable opposition parties fielding one common candidate — retired General Sarath Fonseka. In the event of a Rajapaksa defeat, they point out, he would have no option but to cede power and face a General Election that would resultantly be more difficult. Yet, Rajapaksa was determined to go ahead.
There is little doubt that Gen. (retd.) Sarath Fonseka's exit from the Army and his impending entry into politics placed the Government on the back foot. On November 12, Minister and SLFP General Secretary Maithripala Sirisena declared at a news conference that President Rajapaksa would make an important announcement, concerning elections at last Sunday's annual convention of the Sri Lanka freedom Party (SLFP).
This event, the Secretary of the SLFP said, would focus on whether it would be presidential or parliamentary. Just two days later, Rajapaksa's address to the large gathering at the Khettarama Stadium was lacklustre. A tired, worn out President only asked those in favour of a Presidential Election to raise their hands. Most did.
Heroes to traitors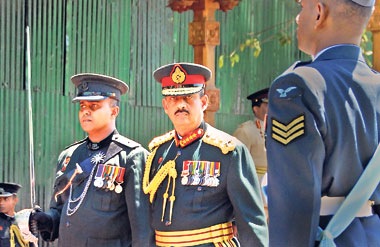 However, there were no raised hands for a General Election. Other than that, Rajapaksa had a broadside at "yesterday's heroes turning today's traitors". Obviously, he had in mind his co-partner in the military victory against Tiger guerrillas, now turning political rival and becoming opposition's "common candidate". Whether such a vast gathering at the stadium and those millions of Sri Lankans who watched it live on most television channels, had to be reminded that "heroes" turn "traitors" when they part ways baffled many.
Yet, that has become a hallmark of the Rajapaksa administration. It only takes one with an opposing viewpoint to qualify for that dubious title. If it was conferred on many journalists and lawyers earlier, here was the first instance it fell on a decorated General. It seems the Government had international and local patent rights for the word "patriot". That is for use on themselves and their allies whilst calling others who are out of favour as "traitors".
The fact that no announcement of any poll was made on Sunday by Rajapaksa upset opposition plans. The Janatha Vimukthi Peramuna (JVP) had scheduled a news conference for Monday. The next day, the United National Front (UNF) lined up another. As exclusively revealed in the front-page lead story of the Sunday Times last week, the JVP wanted to invite Gen. (retd.) Fonseka as the "common candidate". It was to be endorsed the next day by the UNF. However, the absence of a formal announcement on polls at the SLFP convention was to cause difficulties.
Instead, JVP's Anura Kumara Dissanayake at Monday's news conference asked President Rajapaksa to reveal which elections, whether Presidential or Parliamentary, would be held first. He added that the JVP planned to talk with the UNP about a "common candidate."
UNF leader, Ranil Wickremasinghe, told Tuesday's news conference, "let the President declare the Presidential Election. Only then will we decide what we are going to do". If those remarks were the official positions of the respective sides, behind the scenes it was a different story. Consultations between JVP and UNF leaders intensified. So was their dialogue with Gen. (retd.) Fonseka.
With an official announcement about a poll pending, UPFA leaders were still preparing for one. President Rajapaksa met Ministers and District leaders of the SLFP at Temple Trees. He hinted there would be Presidential poll first. No sooner the announcement was made, he declared, they should embark on the poll campaign. "Don't wait a day longer. You are authorised to make decisions. So go ahead with it," he said.
The President said that after the nominations, the period of the poll campaign had been kept to six weeks. Added Maithripala Sirisena, "we all know which election is coming first. So be prepared." He warned, "If anyone asks you what was discussed here, be careful. Don't say which elections would come but tell them you were advised to be prepared for any poll."
He told the participants that with the official announcement of the poll, the Government would issue a leaflet. He urged that it be distributed among the party membership. He did not say what the leaflet would contain. Sirisena opined that the large turnout at the SLFP convention was because of the "Sarath Fonseka factor". He claimed that party supporters wanted to express their solidarity with President Rajapaksa.
On Thursday, Senior Presidential Advisor Basil Rajapaksa together with UPFA General Secretary Susil Premjayantha met with the personal staff of Chief Ministers and Provincial Council ministers at the Presidential Secretariat. They included private secretaries, coordinating secretaries and media secretaries.
Basil Rajapaksa told them to await an important announcement from the President on elections on Monday. He instructed them that on Tuesday morning they should organize the launch of the election campaign by getting their supporters to the streets, lighting firecrackers and holding processions.
He explained that a separate campaign should be carried out through these staff members, as they are the persons based in the respective provinces. The personal staff of the other Ministers (Cabinet, non-cabinet and Deputy Ministers), he said, were mainly in Colombo and would follow suit. They will also be required to distribute leaflets given to them.
Secret meeting
The most significant event for leaders of the opposition parties this week was a meeting they had at a secret location with Gen. (retd.) Fonseka. This is the first time the former Chief of Defence Staff (CDS) was meeting all the key players. They included UNF leader Ranil Wickremesinghe, UNP General Secretary Tissa Attanayake, SLFP-Mahajana Wing leader Mangala Samaraweera, his close associate Tiran Alles, JVP leaders Anura Kumara Dissanayake and Bimal Ratnayake. The lengthy meeting last Tuesday night helped UNF and JVP leaders exchange views with Gen. Fonseka over matters relating to his becoming their "common candidate".
Whilst there is agreement over Gen. Fonseka's candidature among the two sides, the UNP is yet to formally or officially endorse it. On Thursday, when the party's Working Committee met, the issue was raised. Kurunegala district parliamentarian Johnston Fernando asked, "have you come to a decision with Gen (retd.) Fonseka?" Wickremesinghe replied, "no."
Ravi Samaraweera (Badulla District) said when he visited villages in his electorate; questions were being asked whether Gen. Fonseka was the "common candidate".
There were newspaper reports that he would be backed by the UNF. Wickremesinghe explained that the UNP Constitution specified that a candidate could be selected only after elections were declared. He said this procedure would be followed. However, he has been meeting groups of parliamentarians informally to sound out their views. With that Wickremesinghe deftly sidestepped the issue much to the chagrin of a dissident group.
What Wickremesinghe did not disclose was the fact that some of his own party's MPs were having a close dialogue with key UPFA leaders. He had been forewarned that questions would be raised at Thursday's meeting to embarrass him. At least five such persons, he had been told, had spoken to key personalities in the UPFA and expressed the view that they were opposed to Gen.(retd.) Fonseka's candidature. These UPFA leaders were using the group to raise issues and drive a wedge in the UNP.
Therefore, it is not the end of the matter. Whenever a Working Committee meeting is scheduled to formally endorse Gen. (retd.) Fonseka's candidature, Wickremesinghe will face opposition. However, he would still be able to easily obtain endorsement since the majority of the members support him. The Working Committee had met mainly to discuss the party's annual convention scheduled to be held in Wattala on December 19. It also decided on the appointment of party organisers for the provinces. The meeting lasted a little over half an hour.
Whilst UNF's Rauff Hakeem was continuing his dialogue with Tamil National Alliance (TNA) leader, R. Sampanthan to seek his party's support for their "common candidate", the UPFA leaders made their own overtures on Wednesday to woo them.
Presidential Advisor Basil Rajapaksa persuaded eight MPs from the TNA to fly in a fixed wing aircraft from Ratmalana to Vavuniya. From there, they were airlifted to the Menik Farm where the IDPs (Internally Displaced People) are housed. Thereafter, they were flown to Thunnukai where more than 600 families have been re-settled. Later, after they returned to Colombo, they met Rajapaksa to tell him that conditions in the camps were "very good" and to thank him for the opportunity afforded.
However, eight other MPs from the TNA declined the invitation on the grounds that they did not want to take part in a "conducted tour". One of them said the visit materialised only because elections were round the corner. "All this time the Tamil MPs together with other parliamentarians remained barred from the IDP camps," he said.
Yesterday Basil Rajapaksa travelled to Vavuniya to announce that IDPs no longer needed permission to leave their camps and could move around freely from December 1.
Though Gen. (retd.) Fonseka's candidature on behalf of both the UNF and the JVP is no more in doubt, a number of other issues remain to be resolved. One is the question of which party's ticket he would contest on. The JVP is not in favour of his coming on the UNF ticket. It has applied to the Department of Elections to seek recognition for a new party, Eksath Prajathantrawadi Peramuna (United Democratic Front) but is yet to receive a response.
JVP Parliamentarian Lakshman Nipunaarachchi told the Sunday Times, "We handed over an application to register a new political party two months ago. The Commissioner of Elections has so far not informed us about this decision." He denied reports that the application has been rejected and asserted that it was made before modalities to register political parties under a new law came into effect.
Other issues that are to be resolved include their joint approach on how to address outstanding grievances of the Tamil community and the restoration of media freedom. Broad agreement has been reached on the abolition of the Executive Presidency and the withdrawal of ongoing State of Emergency. All these aspects are to be incorporated into a policy document which the parties backing Gen. (retd.) Fonseka will formulate with the concurrence of their candidate.
Unpleasant experience
On Monday, wearing his uniform for the last time for the final round of farewells before reverting to civilian life turned out to be an unpleasant experience for Gen. Fonseka. Neither the armed forces commanders nor the Police Chief was present at a guard of honour. The media were allowed for the event only during its last stages.
An area outside the OCDS (Office of the Chief of Defence Staff) was cordoned off for this guard of honour. The OCDS staff had used a large volume of tarpaulin, as a security measure, to seal off the area located within the Army Headquarters. Army, Navy, Air Force and the Police gave a joint guard of honour to Gen. Fonseka. Immediately thereafter, he visited the Army Pay and Records division. He also visited the war memorial outside the Parliament Complex in Sri Jayawardenapura-Kotte.
There he told the media that he would declare within 48 hours whether he would enter politics. The same afternoon, he called on President Mahinda Rajapaksa to bid farewell. Gen. Fonseka told associates later Rajapaksa had cautioned him that unlike the military, politics was a "mada godak" or a heap of mud and he should be prepared to face the brunt of it.
Just 24 hours after Gen. Fonseka's departure, Air Force Commander Air Chief Marshal Roshan Goonetileke was appointed acting Chief of Defence Staff (CDS). This is in addition to his existing duties. With this move, Army Headquarters also transfered out from the OCDS five Brigadiers who served under Gen. Fonseka. His wife Anoma Fonseka, who headed the Ranaviru Seva Authority also tendered her resignation.
Last week's revelations in these columns that Gen. (retd.) Fonseka has been assigned only a platoon of troops (one officer, 34 soldiers), two Jeeps and a bulletproof BMW has had its sequel. The Ministry of Defence directed Army Commander Lt. Gen. Jagath Jayasuriya to increase the strength. On Friday, the Army Commander assigned two officers (a Major and a Captain), 50 soldiers (instead of 34) from the Sinha Regiment and ten commandos for Gen. Fonseka's protection.
Two Jeeps and a different bullet-proof car (not the BMW used by Gen. Fonseka) were approved. Earlier, in increasing the strength he had only authorised two officers, a Major and a Lieutenant to be in the security detail. However, a request to revise that by providing a Major and a Captain was made by Major General Rajitha Silva, Director General – General Staff (DGGS) at the OCDS. After President Rajapaksa, it was Gen. Fonseka who has had the largest security contingent when he held office. There were two Brigadiers, 24 officers and 600 troops assigned to him.
At Army Headquarters, Gen. Fonseka had converted two residential quarters into one. For reasons of security, he lived there. His close relatives occupied the General's House, the official residence of the Army Commander, located at Bullers Road. He was requested to move immediately to the General's House. This was to enable Lt. Gen. Jayasuriya, who is still living at his private residence in Pelawatte, Battaramulla, to move in.
Retiring Army Commanders are entitled to remain in the official residence for three months. However, they are required to make a written request. Gen. (retd.) Fonseka had not done so. Whilst remaining at General's House, one of his daily tasks this week has been house hunting. He complained that some prospective property owners had received warning messages urging them not to let their homes. Some have even been threatened with reprisals.
Early this week, he inspected houses at Queen's Road (near the Colombo University's College House) and in Battaramulla. However, they did not meet his requirements. Since differences developed between him and Defence Secretary Gotabhaya Rajapaksa, Gen. Fonseka has been dealing directly with Presidential Secretary Lalith Weeratunga. On one occasion, he telephoned Weeratunga to appeal to him to ask Basil Rajapaksa to answer his telephone. He said, "I have been ringing him many times but he is not answering my phone calls."
Story in the Sunday Times
Last week, the Sunday Times revealed exclusively that the letter of retirement together with an annexure setting out the reasons sent to President Rajapaksa was not the one circulated to the media by the opposition political parties. A team of officials and Cabinet Ministers who were formulating the response studied last week's political commentary and identified the discrepancies.
"All assumed that the letter publicised was the one handed over. But the Sunday Times which gets information from all sides has carefully investigated the matter and discovered the differences," Constitutional Affairs Minister D.E.W. Gunasekara told "Rata Yana Atha" (the direction the country is moving) a Sinhala programme on Tuesday on the Sri Lanka Broadcasting Corporation (SLBC). "The question arises why General (Fonseka) sent his letter of retirement to the opposition parties," he said.
BBC's Colombo Correspondent, Charles Haviland asked Wickremesinghe at his news conference Tuesday: "Last Friday many websites carried the version of the letter sent as his retirement. On Sunday, the Sunday Times published a different version. Are you able to tell me which is the correct one?"
Replied Wickremesinghe, "I wouldn't know at all. I was in India. When I returned I got to know he had handed in his letter of retirement. I don't think I'll be able to give an answer to it. I also read the article in the Sunday Times but I don't know the facts. We have to ask from Gen. Fonseka."
UPFA leaders had originally planned to release the Government's response to General Fonseka (retd.) last week. They later changed their strategy and wanted to wait until his candidature is formally announced. Suddenly, they have now decided that no reply would be sent to him. A UPFA source who spoke on grounds of anonymity said, "We do not want to start a match to sling accusations at each other. A reply would only provoke one." That seemed a marked change in attitude.
Tough response
Strong answers to both his letter and the 17 reasons for his retirement (not 16 as claimed in the text released by the opposition parties) were formulated when the decision came. Among other matters, it is to record the many benefits that accrued to Gen. (retd). Fonseka. A few elements that were to be in the reply:
Gen. Fonseka, then Army Commander had imported a brand new Mercedes Benz worth over Rs 40 million for official use. He had the right to purchase the vehicle upon retirement if it has been used for over three yearsHowever, in his case, special Cabinet approval has been given to enable him to purchase the vehicle for Rs 2.5 million. The Cabinet had approved the donation of extents of prime land to the three armed forces commanders for winning the separatist war.
When Gen. Fonseka was allotted an extent of 10 perches at Kirimandala Mawatha, Narahenpita, Defence Secretary Gotabhaya Rajapaksa had used his good offices to increase it to 25 perches. At first, the move had caused difficulties since the Cabinet had approved ten perches each for the Commanders of the Army, Navy and Air Force. It was pointed out that no exception could be made only to Gen. Fonseka.
Thereafter, Gotabhaya Rajapaksa had argued that ten perches was not enough for Gen. Fonseka since he had two daughters. He had lobbied for an increase. As a result, a new Cabinet paper proposing 25 perches each to all three Commanders was approved by ministers. The land is said to be worth over Rs 100 million.
President Rajapaksa had ensured that a team of commandos were flown to Oklahoma, the USA to provide protection to General Fonseka's two daughters and son-in-law. Soon after the abortive guerrilla suicide bomb attack on Gen. Fonseka in April 2006, US$ 1,500 (about Rs 171,000 at today's exchange rate) had been remitted every month from the President's Fund for the benefit of his daughters.
In this backdrop, the Criminal Investigation Department (CID) was called in this week to investigate some defence deals done by a close member of Gen. (retd.) Fonseka's family. Allegations centre on several transactions involving a variety of items including one in which a profit of two US cents (or over Rs 2.28) had been made on every bullet and US$ 20 (about Rs 2,280) per shell by a company operated by this close relative. Millions of rounds of bullets were used both in assault rifles and other small arms in the military defeat of the guerrillas. It is also alleged that some of the funds have been remitted to the United States.
Letter to troops
On Friday, Gen. (retd.) Fonseka sent out a farewell message to troops. He had previously thanked only the Army for militarily defeating the guerrillas with the help of the Air Force. He left out the Navy altogether. One high-ranking military source said he had not even mentioned the role of the Navy in the report he handed over to President Rajapaksa after the conclusion of the war. This time, however, he referred to those in the Navy, Air Force, Police and the Civil Defence Force as well. Even if 48 hours had passed and he did not declare his move to enter politics, what he said makes the position clearer. It seemed a political statement of sorts. Here are edited excerpts of an English translation:
"It should be appreciated that the services of the Army, Navy, Air force, Police and the Civil Defence Force contributed to the military victory we achieved. The support of religious leaders and fellow compatriots who supported our efforts should be honoured.
"As professional soldiers you fought the war and achieved victory. The sense of pride you achieved should be protected within the forces. No one should be allowed to destroy this sense of pride and also the military should not be allowed to be politicized. Persons try to ridicule. We served the nation. We should remember that we were those who achieved the military victory".
"My security was reduced to 25 persons ignoring the request for 100 personnel considering the threat to my life. Following persistent requests made, I have been told that 60 personnel and three vehicles will be provided to me. I have received orders from the top to vacate my house with immediate effect soon after retirement. In finding a house for rent too, I have faced obstacles. Some are trying to put me on the streets".
"During the humanitarian operations you proved that you were the most disciplined forces by protecting the Tamil civilians and their belongings. I know that you will do your best for the betterment of the lives of the Tamil civilians".
"I wish to assure you that I will be a shadow for your future progress and to protect democracy, human rights, media freedom, social justice, ethnic harmony which is fading away in the motherland".
The fact that he has included media freedom in his message to troops was not lost on media practitioners and civil rights groups. This is considering the reality that he had deliberately omitted the reference to media freedom in the annexure accompanying his letter of retirement to President Rajapaksa last week. The fact that he has still remained silent on the issue of corruption, however, baffled many.
(For updates you can share with your friends, follow TNN on Facebook, Twitter and Google+)