S.Lanka resettlement plan needed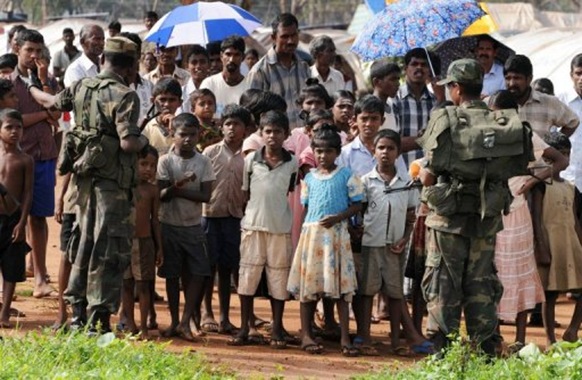 The Sri Lankan government has failed to make adequate welfare provision for the 136,000 Tamil civilians it plans to release from internment camps, rights activists and opposition parties said Sunday.
Heeding international calls for the camps to be closed, the authorities said the remaining detainees — held since the military finally crushed the Tamil Tiger rebels in May — would be allowed out.
Many observers welcomed Saturday's announcement, but warned the government that it must organise a structured resettlement programme.
"We are insisting that the International Committee of the Red Cross or the UNHCR (United Nations High Commissioner for Refugees) should be present when people are resettled," said Nimalka Fernando, spokeswoman for the Democratic People's Movement.
She said the government's plan to "haphazardly" send the civilians back to their villages was "seriously flawed".
The main opposition United National Party (UNP) said the Tamils were leaving the much-criticised camps without receiving any long-term help in providing themselves with food or rebuilding their homes and livelihoods.
"People are to be moved out without proper welfare facilities," UNP general secretary Tissa Attanayaka said in a statement.
The Marxist JVP, or the People's Liberation Front, said freeing the Tamils could lead to attacks on them, and also highlighted the threat posed by uncleared minefields.
"Just letting people go without proper security could expose them to a lot of danger," JVP lawmaker Vijitha Herath said.
The government on Saturday said the remaining 136,000 people held in the state-run camps in the north of the island would be released by January 31.
It maintained that the deadline was in line with a promise to the UN Secretary General Ban Ki-moon, but international aid workers have not been authorised to monitor the resettlement process.
UN humanitarian chief John Holmes visited the camps last week and pressed authorities to end the screening of inmates — a process the government had said was necessary to weed out former rebel soldiers.
In Brussels, the European Union said it remained cautious despite Colombo's announcement that the camps would be closed.
About 280,000 men, women and children were in the makeshift, poorly constructed facilities when troops secured victory over the separatist Tamil guerrillas after decades of ethnic conflict on the island.
(For updates you can share with your friends, follow TNN on Facebook, Twitter and Google+)