Act now human rights pressure group successfully launches its national boycott throughout the UK
Despite the bitterly cold rain and wind over the weekend Act Now campaigners successfully launched its national boycott campaign.
Campaigners, as part of an on-going campaign distributed thousands of fliers to shoppers, by targeting M&S and other high street stores throughout the UK including four London locations, Manchester, Bristol, Exeter, Gloucester, Coventry and Cheltenham.
M&S is being heavily targeted as they promote themselves as an environmentally friendly company with their carbon neutral factories in Sri Lanka, they don't mention in the small print that the money goes into an economy which helps fund a genocidal government with one of the world's worst human rights records.
Sri Lanka relies heavily on the textile and tourism industries and without this money they would have never been able to fund their genocidal war which has killed more than 20,000 innocent civilians this year alone and at least 20,000 amputees and left hundreds of thousands of people traumatised for life.
Act Now Director Tim Martin said "We are delighted to hear that some detainees may be allowed to leave the camps but there are still over 130,000 illegally held plus thousands more in longer standing camps".
He then went on to add "We believe if the International  community will not sanction Sri Lanka for it's war crimes and  human rights abuses then we the people must and that the only way to change the internal politics of the island is through economic sanctions. Only then will the Tamil people be able to live with dignity and respect. The Tamil people have suffered so much for so long and clearly have a right to self-determination, especially after the atrocities that have been inflicted upon them. So for this reason Act Now will continue our boycott campaign until we succeed."
Act Now is targeting M&S, Tesco, Top Shop, Next, Hugo Boss, Calvin klein, Gap, Primark, Nike, Timmy Hilfiger, Polo Ralph Lauren, the UK's Bhs, Adams, Debenhams and of course the tourism industry.
In Bristol and Exeter campaigners took to the streets on Saturday but despite getting absolutely soaked they were not deterred. The Exeter group had a very good response from the public and managed to hand out so many fliers that they had to print more! On Sunday the other groups across the UK had to brave the same bad weather and again they too had a very good response from the public.
Many shoppers were horrified to learn about the existence of camps in Sri Lanka which contain tens of thousands of children. One shopper summed up a common reaction "How can people in this day and age lock up innocent children who surely cannot be guilty of anything?"
Coming under international pressure Sri Lanka has recently announced that detainees will be 'free' to move in the near future. Act Now views the statement with cautious optimism.
The campaign will continue to grow and will be repeated every two weeks. Act Now is hoping to go global with the campaign in the coming weeks, as we have been in talks with groups in Canada and Australia. We are requesting help from anyone anywhere in the world who may wish to get involved, please contact Act Now for more info ( info.actnow@gmail.com).
Tim Martin also added he was saddened by the lack of support from the Tamil community and urged more of the Tamil community to attend future events. If non-Tamils can stand around getting soaked  in the rain including a little boy in Exeter of 7 years old, then he felt any Tamils that do not turn up should be ashamed. The next event will be held in two weeks time on the 6th and 7th of December. Please check the Act Now website for further details or contact Act Now on info.actnow@gmail.com.
Info
Act Now is raising awareness about the suffering of the Tamils in Sri Lanka and is seeking urgent action from the International Community to monitor and improve conditions in the camps and ultimately to close them down. Act Now was set up by a group of British former humanitarian aid workers lobbying MPs and to raise public awareness of human rights abuses in Sri Lanka and currently has the support of at least 55 MPs.
For further information see http://www.act-now.info
END
22/11/09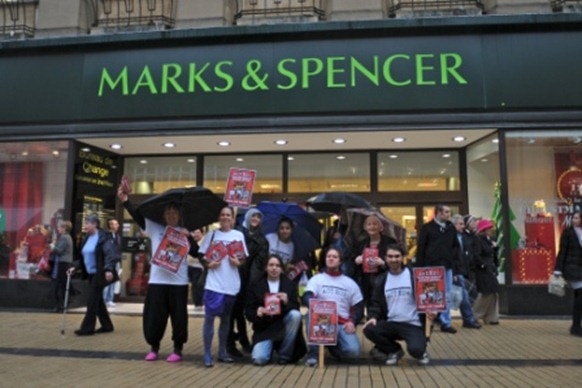 Tim Martin and Bristol Act Now campaigners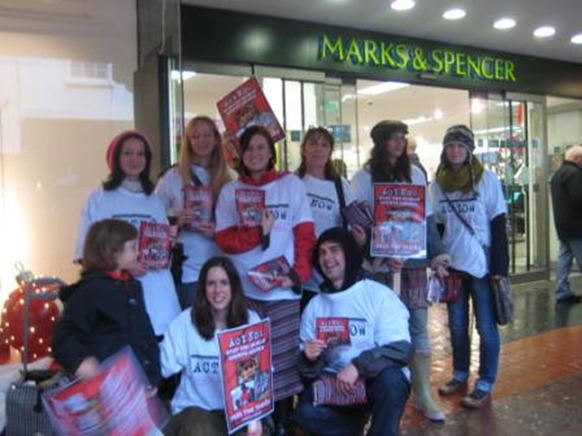 Marcia Colley Devon co-ordinator and Devon Act Now campaigners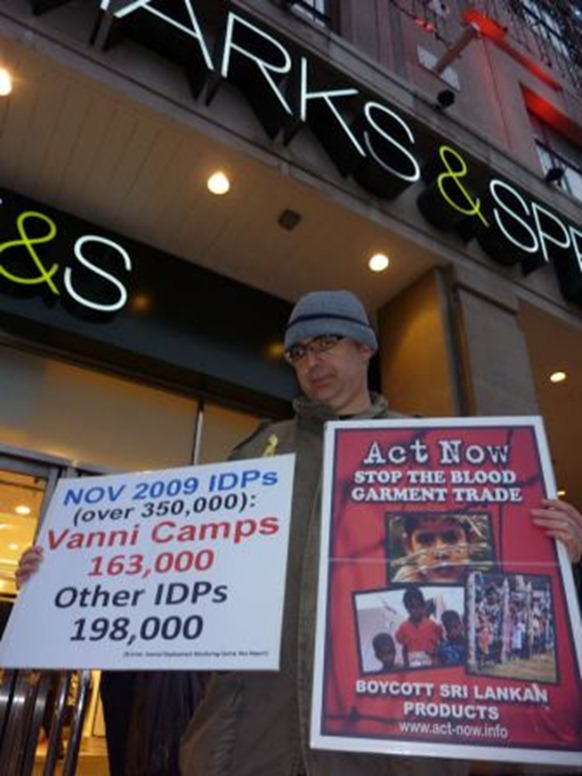 a dedicated Act Now supporter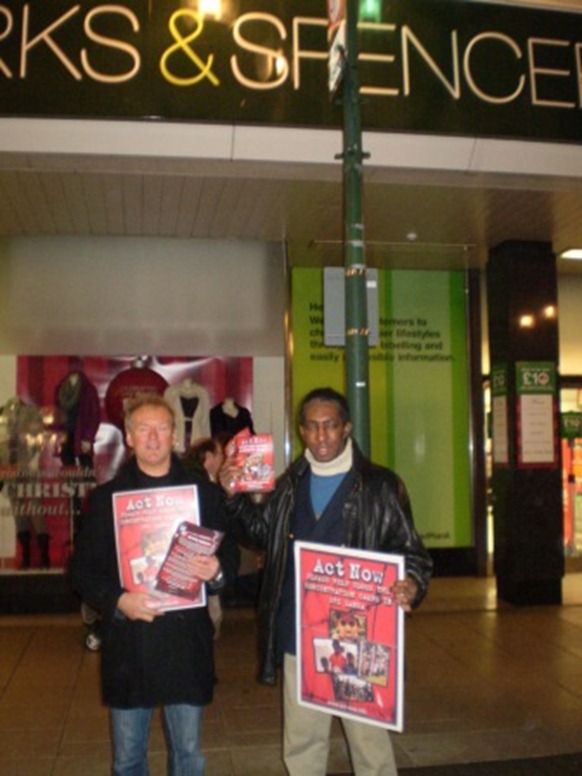 Left Graham Williamson / Right Michael, London councillor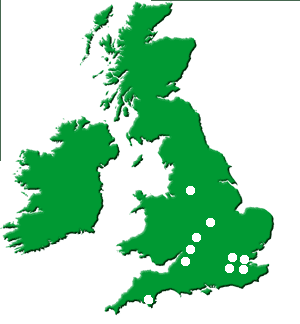 MAP OF LOCATIONS TARGETED
(For updates you can share with your friends, follow TNN on Facebook, Twitter and Google+)