Sri Lankan president on brink of calling snap elections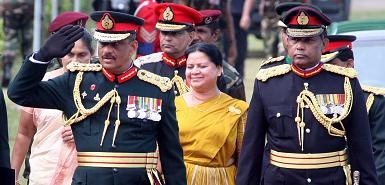 Army general who led victorious offensive against Tamil rebels tipped to challenge President Rajapaksa in snap election
The Sri Lankan president is preparing to call a snap election amid speculation that he will be challenged by the general who led the Government's successful military assault against the rebel Tamil Tigers this year.
President Mahinda Rajapaksa has said he will seek a fresh mandate after completing four years of his six-year term. "The work I should have done during my six-year term has been completed in four," he said.
"Therefore, I have decided to have an early presidential election. I am not afraid to go before the people now."
He did not say when the vote would be held, but local media have speculated that it could be January 23. Sri Lanka's constitution allows the President to call a snap poll after completing four years in office. Mr Rajapaksa came to power in November 2005.
The Government's victory over the Tigers in May, which marked the end of a bloody 26-year civil war, lifted Mr Rajapaksa's popularity among Sri Lanka's Sinhalese majority to fresh heights and he had been expected to go to the polls early.
Speculation is mounting, however, that he will face a challenge from General Sarath Fonseka, who led the campaign against the Tigers, only to be sidelined two months after the final victory.
General Fonseka was switched to the largely ceremonial role of Chief of Defence Staff in July. He resigned from the post this month, a move that exposed a rift among the architects of the Tigers' defeat.
He is considered a national hero by most of the ethnic Sinhalese majority community and is therefore likely to split the ruling alliance's support base in the elections. He has been accused of war crimes by Tamil groups.
Although he has a reputation as an outspoken Sinhalese nationalist, he recently criticised Mr Rajapaksa for failing to make peace with the ethnic Tamil minority after the Tigers' defeat.
(For updates you can share with your friends, follow TNN on Facebook, Twitter and Google+)