Heroes will continue to inspire: CM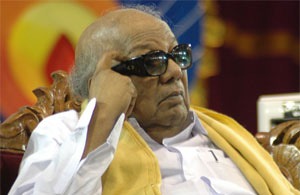 Coinciding with the birthday of slain LTTE chief V Prabhakaran on Thursday and Great Heroes' Day celebrations, Chief Minister M Karunanidhi in his inimitable style has said the heroic deeds of great freedom fighters had never failed to inspire people.
In a statement here, referring to the end of the historical drama, 'Payum Puli Pandaraka Vanniyan', in party organ Murasoli, Karunanidhi revisited the novel written by him in 1991 — that centres around the valour of Vanni's rebel Tamil chief Pandaraka Vanniyan and his quest for freedom in British Sri Lanka. Citing the heroism, the Chief Minister said the awe inspiring saga of great men like Vanniyan had never failed to pep up the people's spirit.
The sub-text: Karunanidhi had always used the way he had ended the novel (Vanniyan would disappear into dense forests after defeating the English soldiers) to stress that he had always been sympathetic of those who fought for the legitimate rights of the Tamil people in strife torn Lanka.
The 11-page nostalgia could also be taken as reflective of another political criticism. A couple of days ago, he was criticised by the AIADMK for his statement on the 'war among brothers' in Lanka and the path perused by LTTE boss Prabhakaran and the lost opportunities for peace. Karunanidhi's statement on Wednesday reiterates that he held in high esteem those who fought for the people, their aspirations and their freedom.
(For updates you can share with your friends, follow TNN on Facebook, Twitter and Google+)