Eezham Tamil refugees in Thailand in dire straits – TNA parliamentarian
Tamil National Alliance (TNA) parliamentarian Chandraneru Chandrakanthan who had spent three days in Thailand meeting Eezham Tamils who had sought refugee with Thailand UNCHR authorities said that nearly 4000 of them are facing insurmountable difficulties. The MP has requested the UN and the UNCHR to do the needful to these refugees. Tamils living in various parts of the world should pay attention to the sufferings of these refugees in Thailand remembering that there are Eezham Tamil refugees even out of Sri Lanka who need immediate attention and support, Chandrakanthan said.
The Eezham refugees who had come to Thailand fleeing war in their homeland in a period from 3 years to 6 months include infants, children, young men, women and elderly persons.
The refugees are held in a detention camp and nearly 80 persons who had gone out of the camp on private errands have been arrested and imprisoned by Thailand authorities for breaking the law. There are women and children among the imprisoned refugees.
Most of the refugees had come to Thailand before the war but there are more than 500 who had come after it had begun.
All refugees who had registered themselves with UNCHR receive 2500 bahts (7500 Sri Lanka rupees) 6 months after registration along with an identity card which is not recognized by Thailand authorities.
In Thailand, a country where various severe restrictions are imposed on foreigners staying in their country, the Tamil refugees have difficulty even in getting milk powder for their children, one of them told the visiting MP.
An organization called JRSK supplies limited amount of milk powder to the refugee children.
The inmates of the Immigration Detention Camp (IDC) not only face lack of food and health facilities but also cultural and sexual problems. Many other foreigners are held here and this leads to confrontations and other problems, he further said.
If anyone falls sick one has to shout for nearly twenty minutes to get the doctor to the sick person while the medical inspection or treatment given are not good enough, he added.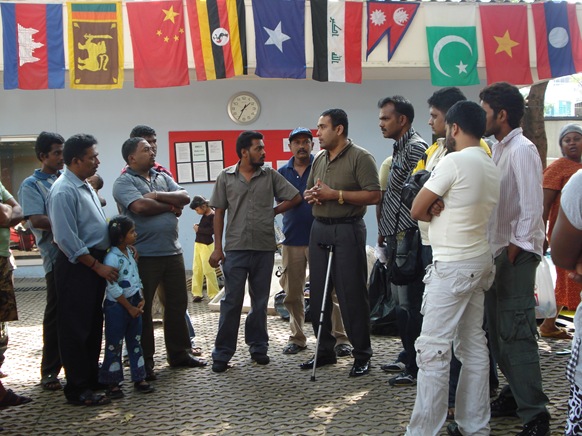 (For updates you can share with your friends, follow TNN on Facebook, Twitter and Google+)