Sri Lanka announces election date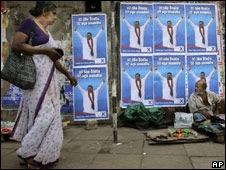 Sri Lanka's electoral office has announced a presidential poll will be held on 26 January.
President Mahinda Rajapaksa decided to call the vote nearly two years earlier than necessary.
The announcement paves the way for a challenge to Mr Rajapaksa's presidency from Gen Sarath Fonseka, a former army chief.
Gen Fonseka resigned earlier this month amid suggestions that he was at odds with the government.
He is yet to declare whether he will stand in the election, but the main opposition United National Party has said it will support him as a candidate.
The electoral commissioner announced that nominations would close in mid-December.
Bunting
It is likely that the two main contenders will be President Rajapaksa himself and Gen Fonseka – his erstwhile ally, and now his rival.
The general is calling a rare press conference on Sunday and is expected to announce his intention to stand.
He seems to be gearing up for a political career, appearing in public clothed in white and courting the media with interviews making pledges that include ethnic harmony and an end to police corruption.
Meanwhile, massive cut-outs of President Rajapaksa are appearing in Colombo and bunting in his party's colour, blue, is adorning the streets.
(For updates you can share with your friends, follow TNN on Facebook, Twitter and Google+)