Sri Lanka to hold presidential poll in January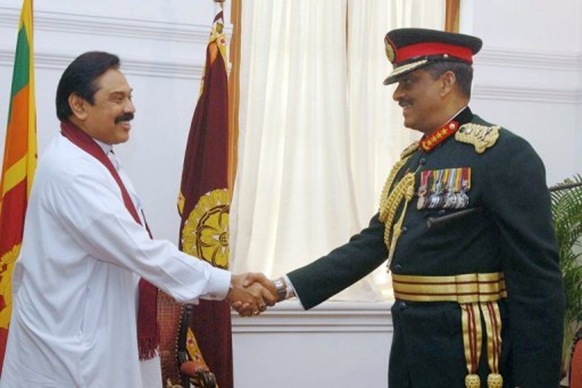 Sri Lanka will hold presidential elections on January 26, the electoral office said Friday, with President Mahinda Rajapakse expected to face his former military chief Sarath Fonseka.
"Elections will be held on the 26th of January," Dayananda Dissanayake, the commissioner of elections, told AFP by telephone.
Rajapakse, 64, called the election two years ahead of schedule in a move aimed at helping the government tap public goodwill after the end of the country's 37-year separatist conflict which ended in May.
Local media had widely predicted the poll would be announced for January 23 or 26, which are considered astrologically auspicious for the president.
Fonseka, 58, is expected to confirm his candidature at a news conference on Sunday after he won the backing of Sri Lanka's two main opposition parties this week.
The former general quit as chief of defence staff this month after a rift with Rajapakse over who should take credit for the military defeat of the separatist Tamil Tiger rebels.
After the fighting ended, Fonseka was moved from the post of army chief to become chief of defence staff, a more ceremonial position that reportedly left him feeling sidelined because of its lack of command powers.
A statement from the elections office said that nominations would be accepted on December 17.
Sri Lanka, where parliamentary elections are also expected some time before April 2010, has 14 million eligible voters. Some 13 million people were eligible to vote during the last presidential poll in 2005.
Rajapakse narrowly won the 2005 poll for a six-year term with 50.12 percent of the vote by defeating the main opposition candidate Ranil Wickremesinghe.
His victory was marred by a boycott of the vote by Tamil Tiger guerrillas who prevented some 350,000 minority ethnic Tamils from voting in the island's north and east.
Wickremesinghe is not contesting the January poll and has backed Fonseka to oust Rajapakse. He accuses the president of granting key state positions to family members and of wanton corruption.
"It's a historic situation where we are backing General Fonseka to defeat President Rajapakse," Wickremesinghe told reporters on Thursday.
He said opposition parties will campaign separately to rally support for Fonseka, who is considered a war hero for having defeated the Tamil rebels who had been fighting for an independent homeland since 1972.
(For updates you can share with your friends, follow TNN on Facebook, Twitter and Google+)