Book Review: The Tamil Genocide by Sri Lanka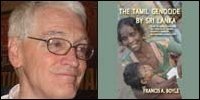 The engagement of Professor Francis A. Boyle, an eminent American expert in international law at the University of Illinois College of Law, during the last years of Sri Lanka's conflict is traced in a forthcoming book published by Clarity Press of Atlanta. Titled "The Tamil Genocide by Sri Lanka: The Global Failure to Protect Tamil Rights Under International Law," it is the first book to develop an authoritative case for genocide against the Government of Sri Lanka under international law.
Such charges by an expert like Boyle should not be taken lightly: In 1993, Boyle took the remarkably similar case of Bosnia and Herzegovina to the International Court of Justice, setting a historical precedent by winning not one, but two Orders from the Court against the rump Yugoslavia, represented by Shabtai Rosenne of Israel, on the basis of the 1948 Genocide Convention. Prior to Boyle, no government had won two Orders for Provisional Measures of Protection—the international equivalent of an injunction—in one case in the history of the World Court going back to its foundation in 1921.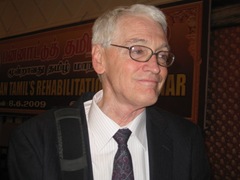 Professor Boyle was among the very few to address the international legal implications of the Sri Lankan Government's grave and systematic violations of Tamil human rights while the conflict was actually taking place, and to excoriate the UN and those significant states and actors in the global community whose failure to prevent it, Boyle charges, amounted to complicity in genocide.
One seminal lecture in the book outlines the legal basis for the Tamils in Sri Lanka to exercise their right under international law to proclaim a Unilateral Declaration of Independence and establish a Provisional Government for Tamil Eelam if that is their desire. Here Boyle draws upon his experience as the Legal Advisor to the Palestine Liberation Organization on their 15 November 1988 Declaration of Independence and their establishment of the State of Palestine, which recently announced the intention to petition for membership in the United Nations Organization.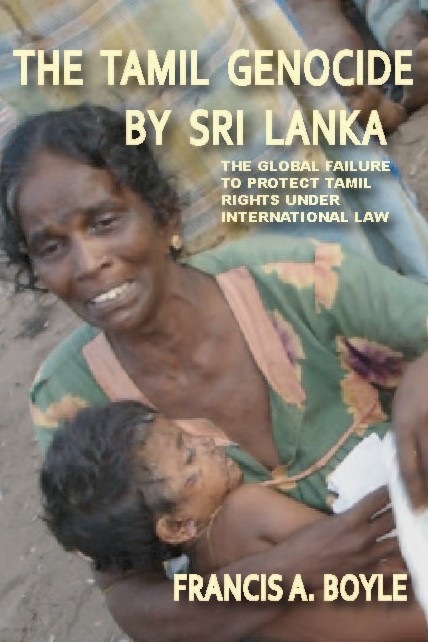 In addition to Boyle's writings on aspects of international law related to Sri Lanka's war crimes, crimes against humanity and genocide against Tamils, and the international community's failure to stop the slaughter of Tamil civilians, the book also contains relevant articles from international conventions directly applicable to the conflict, including the Geneva Conventions, the Rome Statute of the International Criminal Court, and the Genocide Convention.
Of equal pertinence, it includes Boyle's detailed summation of his activities on behalf of Bosnia and Herzegovina, whose tragic plight has a direct and immediate relevance for the Tamils of Sri Lanka.
"The Tamil Genocide by Sri Lanka" is available from Clarity Press, Inc., Ste. 469, 3277 Roswell Rd. NE, Atlanta, GA. 30305, USA or online at http://www.claritypress.com/Boyle-Tamil.html.
ISBN: 0-932863-70-1 / 978-0-932863-70-6. $14.95. 139 pages.
(For updates you can share with your friends, follow TNN on Facebook, Twitter and Google+)