Ghosts of War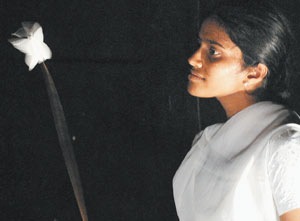 ''WHEN you are dead, your soul has the time to think without any prejudices. And that is when you really miss life," Koumarane Valavane puts the message behind his latest play in a nutshell.
The play Land of Ashes brims with his typical surrealist touch. And this time, the crux of this non-linear narrative is war in all its devastation.
Smart, aesthetic use of simple props can be seen here, as a huge black robe signifying multiple concepts like 'darkness', 'night' and 'human suffering', and quite convincingly at that, envelops the stage throughout the play. And the director has assured that 'human suffering' is depicted with no strings attached. So when seven actors, including Koumarane himself, take the story ahead, each appearing with his or her own little story of cynicism, regret and sacrifice, we hear of unimaginable tales of war.
The play captures rapt attention right from the beginning: a young man introduces himself as the 'darkness' and with subdued but evident agony and demands the audience to never fall for the promises of daylight. From then on, our actors are all dead souls with pale, white faces and bloodshot eyes, united in their suffering.
We have a young man who loves talking to Hanna, the puppet who was made in a Nazi concentration camp, another man from Rameshwaram who narrates the atrocities he endured in the crossfire in Sri Lanka, and a woman, killed along with her baby, who swears to haunt the murderers. Earthy Koothu songs add a powerful intensity to the play.
The dark tones in the play are its biggest strength, as they convey the message perfectly.
(For updates you can share with your friends, follow TNN on Facebook, Twitter and Google+)