Sri Lanka war hero to run for president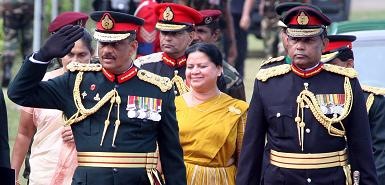 The Sri Lankan general who led the Government's successful military assault against the rebel Tamil Tigers this year announced early today he will run for president, pitting himself against President Mahinda Rajapaksa.
General Sarath Fonseka was widely expected to launch a challenge for the post after becoming a vocal critic of the President when he was sidelined two months after the end of the 34 month offensive. He has accused the president of pushing him aside over unfounded coup fears.
"I have decided to contest in the presidential poll as a common candidate of the opposition parties, on their request," General Fonseka, the former chief of defence staff, told reporters. "Sri Lanka suffered violence at the hands of terrorists and has been suffering too long. Now we have done away with the terrorism. But now you can't leave the country in the hands of a dictator."
Considered a national hero by most of the ethnic Sinhalese majority community he is likely to split the ruling alliance's support base in the elections.
He criticised the government's record on corruption, media freedom, democracy, resettlement of the war displaced, the peace dividend and law and order, areas which opposition and Western nations have also said Mr Rajapaksa has done too little.
"We have to ensure good governance. I been selected (for) politics with reluctance and I will ensure the democracy is re-established," he said.
The elections are scheduled for January 26 but last week President Rajapaksa said he would call a snap election after completing four years of his six-year term.
"The work I should have done during my six-year term has been completed in four," he said.
"Therefore, I have decided to have an early presidential election. I am not afraid to go before the people now."
He did not say when the vote would be held, but local media have speculated that it could be January 23.
(For updates you can share with your friends, follow TNN on Facebook, Twitter and Google+)