Commonwealth vetoes Sri Lanka bid to hold 2011 gathering
Sri Lanka has been blocked from hosting the next meeting of Commonwealth leaders in protest at Colombo's military repression against the Tamil population earlier this year.
Australia will instead host the next biennial Commonwealth heads of government meeting in 2011 after Canberra and London joined forces to block the Sri Lankan bid.
The decision, made at the summit in Trinidad and Tobago over the weekend, is a victory for Gordon Brown and his Australian counterpart, Kevin Rudd.
Brown faced down advice from the Foreign Office to issue a strong briefing on the eve of the summit last week that Britain would block the Sri Lankan bid.
British diplomats were nervous when the British media, including the Guardian, reported that Brown would tell Commonwealth leaders that it would be unacceptable for a gathering of one of the world's largest collection of democracies to be hosted by Sri Lanka. Officials in Colombo, who had expected to be able to host the 2011 summit after formally submitting a bid in 2007, were said to be alarmed by the strength of the No 10 briefing.
A Downing Street source said on Thursday: "We simply cannot be in a position where Sri Lanka – whose actions earlier this year had a huge impact on civilians, leading to thousands of displaced people without proper humanitarian access – is seen to be rewarded for its actions."
Colombo ended a 26-year civil war this year in a campaign against the Tamil Tigers. Up to 300,000 people were held as they fled the last days of the fighting.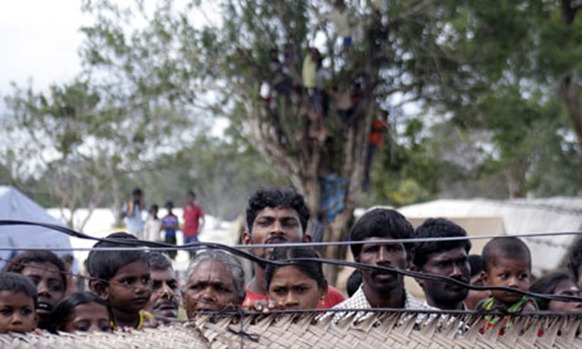 Tamils look over a fence as they stand inside a camp in Vavuniya. Sri Lanka has been criticised for actions that earlier this year led to thousands being displaced without proper humanitarean access. Photograph: Reuters
The Australians are expected to hold the 2011 summit in Perth.
Brown and Rudd, who are natural political allies on the centre left, joined forces on a series of fronts at this year's meeting. They worked closely on climate change and persuaded the 53 Commonwealth members to accept a $22.5bn (£13.6bn) climate change finance package.
British officials regarded the blocking of Sri Lanka and the climate change package as triumphs. They were particularly pleased that Stephen Harper, the centre-right Canadian prime minister, who is regarded in London as an "outlier" on climate change, signed up to the package.
But Harper only accepted the package in a one-to-one meeting with Brown, shortly before a banquet on Friday hosted by the Queen. Brown told Harper he should drop his concerns about the cost of funding climate change initiatives in the developing world because it would end up costing more if the $22.5bn package, covering 2010-13, was rejected.
Brown then asked Harper to persuade John Key, New Zealand's centre-right prime minister, who also had doubts. Harper agreed and succeeded.
(For updates you can share with your friends, follow TNN on Facebook, Twitter and Google+)