Sri Lanka refugees happy to be free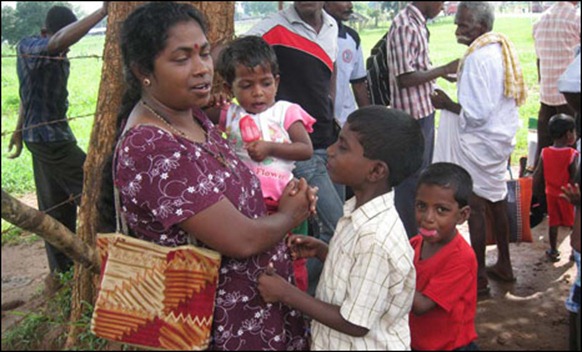 Sri Lanka has opened up the vast refugee camps which have been holding tens of thousands of Tamils since the end of the war with Tamil Tiger rebels. BBC Tamil's Ponniah Manikavasagam in Vavuniya has met refugees allowed out of the camps and those who have been permanently resettled.
I was not able to go inside but I could speak to the people who were leaving the camps. They were coming out in large numbers.
They told me that they were allowed to leave the camp for up to 15 days.
The authorities gave them a letter authorising their exit and stating that they had freedom of movement – but stipulating that they had to return on a pre-arranged day.
The refugees were just standing about and waiting on the main road for public buses to take them to their destinations.
'Thrilling'
They all said they were happy to be free.
"All these days we were inside the camp and couldn't come outside. It is thrilling to see so many people outside and the vehicles on the road," said Subramaniam Surenthiran.
People said there were many things they wanted to do – visit their relatives, go to the town to buy things and to conduct banking business.
"We are going to Vavuniya to buy some things for my house and new clothes for my son for his birthday," said Jeyakumar Subothini.
"They have allowed us five days and said that we could even go to the capital, Colombo. They gave us a form to make an application to leave the camp. We have an identity card given by the army. I am very happy to leave the camp," he said.
Some told me they were going to see their husbands or sons or daughters who had been detained for being a rebel, for supporting the Liberation Tigers of Tamil Eelam (LTTE) or working for them.
These detainees are being kept in different camps and have not been granted freedom of movement.
"My daughter is in the LTTE detention camp at Pampaimadu. I am going to see her," Kanaglingam Kanagamma said.
"I want my daughter to be released because she is mentally disturbed. She needs family care. She was forcibly recruited by the LTTE. When we came here to the army-controlled area my daughter was arrested for being with the rebels," she added.
Resettled
Some of the people I spoke to said they had previously been able to get permission to come out for a short visit – but this new era of freedom was different.
However, they said they were longing to go back home.
Many others have been allowed to leave the camps permanently to return home.
Over the last few weeks I have spoken to some of those who have been resettled.
Many were still living with relatives and said they were happy to leave the camps.
People said they had yet to find a job and expressed the desire to get back to their own homes.
Others had managed to get back and found that jungle and foliage had covered their homes.
A few weeks ago, I met some people who had gone to Mallavi. At that time, they were being kept in a temporary camp there.
They said they were happy to be back in their village but worried to see that the place looked like a jungle.
Helping hand
They said they had been given tin sheets and tarpaulin to put up temporary huts.
In the town, I met some people who had already settled back. They complained that they were unable to start farming because of the rains.
They said the government had been trying to help them continue with their agricultural activities and setting up income-generating projects.
The government has provided them with 5,000 rupees ($44) in cash and 20,000 rupees ($175) in the bank. They have been promised another instalment of 25,000 rupees ($219).
They were given kitchen utensils to start cooking and six months' worth of rations.
They were also provided with tools to de-weed the land because it had been abandoned and become overgrown with trees and undergrowth.
(For updates you can share with your friends, follow TNN on Facebook, Twitter and Google+)