As Sri Lanka Still Bars Press from Camps, UN Denies Receiving Elders' Letter
With the Sri Lankan government still blocking the press from its camps for people it internally displaced, the Elders organization founded by Nelson Mandela last week wrote to UN Secretary General Ban Ki-moon, his top humanitarian John Holmes and top development official Helen Clark, urging the UN to do more.
On November 30, days after the Elders announced their letter, Inner City Press asked then outgoing UN spokesperson Michele Montas for the UN's response to the Elders' letter. Ms. Montas said the UN hadn't received any such letter.
Ironically, on the evening of November 30, Sri Lanka's Ambassador to the UN Palitha Kohona told Inner City Press, on the record, that he had received the letter, of which he said he "questions the timeliness." He spoke to Inner City Press about opposition candidate Sarath Fonseka, but said his comments were off the record.
  Later in the week, a senior UN official from Mr. Ban's 38th floor approached Inner City Press to say that the letter had been received. But when Inner City Press on December 3 asked acting spokesperson Marie Okabe to finally respond to the call in the Elders' letter, Ms. Okabe repeated the statement that her Office was not aware of any such letter.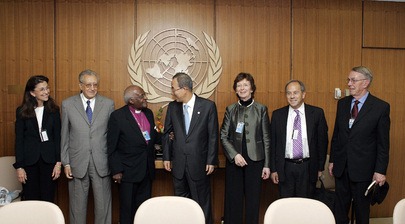 The Elders' now week old announcement states that they "are particularly concerned that the UNHCR, the International Committee of the Red Cross and national and international NGOs have had too limited a role in monitoring the movement of people, and have not had access to all the areas where people have been returned. Equally worrying are reports that some of those released have been placed in new, closed camps in their district of origin by local authorities."
Despite quotes from UN officials this week about how pleased they are with the government's announcement that IDPs will be released or at least allowed to temporarily leave the camps — most see this as tied to the January election, and not any vindication of the UN's decidedly "quiet" diplomacy approach — major wire services report ongoing problems
(For updates you can share with your friends, follow TNN on Facebook, Twitter and Google+)