'He Said The Army's Too Strong, Sri Lanka Will Become Like Myanmar' – outlookindia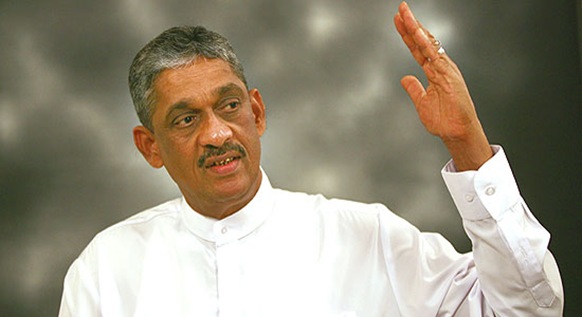 General (retd) Sarath Fonseka has found himself an office space in the posh neighbourhood of Colombo 7. Guarded by army commandos, Fonseka sits in his new war room, preparing for Sri Lanka's next big battle—presidential elections 2010. A multi-party opposition coalition called the United National Front has pitted him as its candidate against incumbent President Mahinda Rajapaksa.
The last three years have been tumultuous for Fonseka. On April 25, 2006, an LTTE suicide bomber had tried to kill him. Two years, eight months and three weeks later, Fonseka's troops were swarming over LTTE chief Velupillai Prabhakaran's body near a lagoon in the island's north-east. And then, within days of the LTTE being decimated and the nation rejoicing, Fonseka fell out with Rajapaksa. Excerpts from an interview the retired general gave to Satarupa Bhattacharjya:
Why did you quit the post of chief of defence staff and enter the electoral arena. And so soon after the victory?
In my retirement letter to the President (Mahinda Rajapaksa) dated November 12, I have given my reasons…it's a long story. The post of chief of defence staff was comfortable but without authority. Sitting in a place like that, I realised the level of corruption in the country…the lack of justice for the people. I've realised that this executive presidency was doing a lot of damage to the country, a lot of damage to the principles of democracy. It's good to have a powerful head (of state) provided he doesn't abuse the powers. But this particular executive presidency leaves enough room for any president to abuse power. Besides, I haven't seen any infrastructure development in this country in the last few years. Some of the roads and bridges that were built had been planned by the previous government. The war can't have been a reason for stopping development.
How much was spent on the war?
We didn't spend more than four per cent of the GDP.
What would that amount to, say, in the last three years of the war?
For instance, if you take last year's army budget, it was about 70 billion Sri Lankan rupees (US $62 million). But this Rs 70 billion includes the money we spent on ammunition and other defence purchases. Before we started the war (the last phase, August '06-May '09), it was about Rs 32 billion. It doubled during the war. But what we mostly purchased during the war was ammunition. I didn't buy any new weapons systems. All the weapons systems we had were heavy artillery which had been purchased during the previous president's time. We were fighting with old ammunition stocks till the end of 2007. The new lot that we ordered came only in 2008. The weapons purchased (in '08) were mostly on credit lines. Actually, the dues will be finally settled by 2020. Most of the credit lines came from China…they were the only people giving credit lines. During the Beijing Olympics, though, they didn't send ships for four months; then I had to approach Pakistan's army commander to get some emergency ammunition from his army stocks.
Did you buy ammunition from any other country?
The air force bought MiGs from Ukraine and bombs from Israel.
What kind of help did you get from New Delhi?
Political and moral support.
Did India help with satellites or intelligence inputs?
Not really, but even (if) they did…I can't tell you (laughs). We didn't expect that kind of support from India. India was always against the terrorism here. So, despite the pressure which Tamil Nadu politicians had put on the central government even when general elections were being held in India (May '09), India didn't interfere in our operations.
What kind of role did President Rajapaksa play in getting political support from India?
Colombo and New Delhi had a mutual understanding that we won't launch an attack on the Tamils (the people). Within that framework, I don't think India had any problems with the military operations. We told India that we were not going to harm the Tamil people but that we wanted to destroy this terrorist organisation (LTTE).
Did Rajiv Gandhi's assassination change Indo-Lanka relations?
Before 1991, India used to think that the Tamils were being discriminated against in Sri Lanka. After 1991, I think India realised that it was a case of a terrorist movement here.
If elected, what will be the focus of your foreign policy?
The policy of being non-aligned will continue. In the last year or so, our relations with western nations have been strained. They have spoken about allegations of war crimes. We have to ensure that all doubts are cleared. We must clear our name…how to do it is a matter for us to discuss with them. We have to do the right thing. There are international norms and standards by which these things are done.
In the region, we must ensure that India's security sentiments are not underestimated. We should be seen as a friend. India should know that Sri Lanka will never be a threat to its national security. Of course, our military-to-military relations have been very good. We also have to maintain good relations with the saarc countries.
How will you be looking at China vis-a-vis India?
We have long relations with both China and Pakistan. With China, of course, our relations have been non-strategic— related to development projects.
You told President Rajapaksa that the Lankan army's image had been tarnished by Colombo contacting New Delhi for help, fearing a coup by the army. What happened?
I wonder if someone was drunk that night (October 15), telephoning all over the world about this. If I'm the head of state, I can't be worrying all the time about how I can keep my army (in check)…if the state can't trust its own army, then it will not be able to do its job.
Why did you fall out with Rajapaksa?
Five days after we won the war, at a meeting of the (president's) security council, he said he'd stop recruiting new people in the army because it's too strong and too big, that Sri Lanka would become like Myanmar. Such statements demoralised me. I thought they were disgusting.
What is your opinion on the 13th amendment? Are you in favour of devolution of powers in the north and east?
I will not be able to speak of a solution right away. There will be consultations among the political parties in the opposition fold. I'm for 13-plus because we need to move beyond the Indo-Lanka accord (1987)…the best solution would be the one which is acceptable to all communities.
What happens to the thousands of detainees who have been kept in prisons since the war ended in May?
Those who were involved in terror activities will have to be dealt with by the laws of the land. Others against whom proof of crimes do not exist but have been taken into custody to be questioned will be set free. Also, 10,000 LTTE combatants who surrendered in the last stages of the war will be rehabilitated.
Have you ever trained in India?
I first went to India in 1973 to attend a commando course in Belgaum, then a jungle warfare programme in 1976 in Mizoram, a battalion support course in 1979 in Mhow (MP) and, finally in 1991, I did the senior command course again in Mhow. I have lots of friends in India. Retired general Satish Nambiar is a good friend.
(For updates you can share with your friends, follow TNN on Facebook, Twitter and Google+)