US envoy to visit Sri Lanka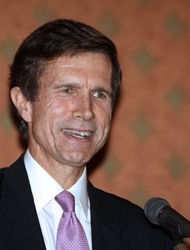 A senior US envoy will head to Sri Lanka next week to encourage post-war reconciliation, days after the island nation allowed Tamil civilians to leave detention camps, officials said Friday.
Robert Blake, the assistant secretary of state for South Asia, will visit Sri Lanka on Monday and Tuesday in the highest-ranking US trip to the island nation since it ended a 37-year guerrilla war in May, the State Department said.
Blake, formerly the ambassador to Colombo, will meet with "government officials, political leaders and civil society," it added in a statement.
Sri Lanka's relations with the United States and other Western nations soured earlier this year as troops defeated the Tamil Tiger rebels, who waged a bloody campaign for a separate homeland.
Western powers and the United Nations had voiced concern about the safety of non-combatants in the final offensive and were alarmed when Sri Lanka later detained tens of thousands of civilians, arguing it was weeding out rebels.
Sri Lanka opened the gates Tuesday as part of a plan to close down the widely-condemned displacement camps by the end of January. But many civilians have stayed put because their villages were destroyed or mined in the long ethnic war.
A State Department official, speaking on condition of anonymity, said that detainees' freedom of movement was "critically important" to reconciliation in Sri Lanka.
"We welcome the government of Sri Lanka's actions to allow increased freedom of movement for IDPs," or internally displaced people, the official said.
"We hope that all Sri Lankans who have been displaced from their homes over the course of the conflict can voluntarily return to their homes and villages in safety and dignity as soon as possible," the official added.
"We urge the government of Sri Lanka to continue and strengthen its cooperation with the international community to provide assistance and services to returnees."
The official said the United States was looking at additional assistance options after providing nearly 58 million dollars in humanitarian aid in the past year, including for emergency food to detainees and demining villages.
Human rights group Amnesty International called on Blake to urge Sri Lanka to provide more assistance to detainees, saying some were simply being left on the roadside without knowing the state of their villages.
"The authorities must make good on their declared intentions to free some 120,000 people and must do so unconditionally," Amnesty International USA executive director Larry Cox said in a letter to Blake.
(For updates you can share with your friends, follow TNN on Facebook, Twitter and Google+)