Fonseka declined purchase of ammunition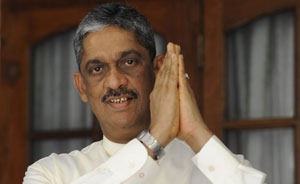 Gen Sarath Fonseka, former army commander and the joint Opposition candidate in the coming Sri Lankan Presidential election, has said that one of the reasons why President Mahinda Rajapaksa and Defence Secretary Gotabaya Rajapaksa fell out with him was his refusal to order artillery shells worth $ 300 million after the war against the LTTE was over.
Fonseka told The Sunday Leader that the state-owned Lanka Logistics and Technologies Ltd, of which Gotabaya Rajapaksa was head, had wanted him to order the shells from China in May, but he vetoed it saying that the war was over and that the army did not need so much ammunition during peace time.
Earlier, the government's websites had put out stories saying that Gen Fonseka's son-in-law Danuna Thilakaratne, settled in the US, had made huge amounts of money as an arms agent, while he was army commander and a member of the military tender board. As the exclusive agent of one Ahmad Nissar, a Pakistani arms dealer and an alleged ISI agent. Thilakaratne had got two cents for every bullet or shells fired, the official website alleged.
(For updates you can share with your friends, follow TNN on Facebook, Twitter and Google+)