Blake backs Lanka's resettlement efforts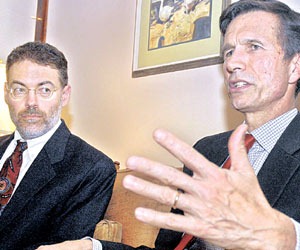 US Assistant Secretary of South and Central Asian Affairs, Robert O Blake, who was here on Thursday highlighted the Sri Lankan government's efforts to resettle the displaced Tamils and stressed on Indo-US ties.
Blake told the media that he had met the top political leaders in Lanka and had seen the resettling efforts that they were taking. "About 1,50,000 people still remain in camps with a freedom to move and the President has told me that they will all be settled by January and sent back to their villages. I also visited Mannar to witness the government efforts to give the people materials of housing, food rations etc. Roads are being rebuilt there. Facilities are being made for schools, hospitals and even electricity which has not been there in this area for many years now," he said.
"I met President Rajapaksa and we spoke about the efforts of reconciliation and the need for devolution of power. We also spoke about the human rights issues that have cropped up," Blake noted. He added that the oncoming election will be an important step in asserting to people their democratic rights to vote and choose their own leader and he said that he hoped that the elections will be free and fair to all candidates.
Blake went on to insist how the US was keen on stressing that India is an indispensable partner for ensuring security and prosperity in the world. "To emphasise that effort we are extending bilateral ties through various business channels, educational institutions and tackle global challenges like health and non-proliferation. Clean energy and climate change are newer areas of cooperation."
(For updates you can share with your friends, follow TNN on Facebook, Twitter and Google+)