S Lanka army chief slams president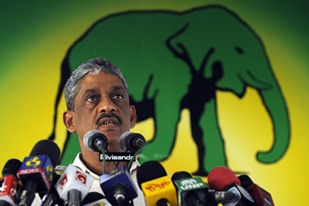 Sri Lanka's former army chief has accused the president of corruption, nepotism and abuse of power ahead of next month's election.
General Sarath Fonseka's comments on Friday came a month after he resigned from the military, accusing the government of sidelining him after victory in the war against the Liberation Tigers of Tamil Eelam (LTTE), on suspicion that he was plotting a coup.
He later announced that he would run against Mahinda Rajapaksa, the incumbent, in the election scheduled for January 26.
"It is a military victory that we have won, but real peace has to come after the military victory," Fonseka said on Friday.
"Under cover of war victory, if someone is trying to boost up his family image or to stick to nepotism … then you can't say peace has come."
President Rajapaksa's three siblings hold senior government positions.
The president's older brother is a cabinet minister, his younger brother an influential political adviser and his youngest brother is the country's defence secretary.
Separation of powers
Fonseka said if elected he would trim the powers of the country's executive and strengthen the parliament under a prime minister.
The presidency under the current system is so powerful that a serving president is immune to prosecution.
Government ministers and supporters have cited Fonseka's military background to argue that he, instead of giving up power, may become a dictator.
But Fonseka has said he has had ample opportunity in the past to do so if he had wanted.
Rights abuses
The army under Fonseka has been widely criticised for its poor human rights record during the war earlier this year, which ended a 25-year fight for independence by the LTTE.
According to UN reports, more than 7,000 civilians were killed from January to May and a US state department report in October listed instances when government troops allegedly fired at civilians and hospitals and killed Tamil Tigers who surrendered under white flags.
Fonseka denied the army was involved in war crimes and implied gangs at the behest of political leaders may have been involved in attacks on journalists.
"As far as the army is concerned I don't know there were any war crimes. I monitored every action by the troops," he said.
(For updates you can share with your friends, follow TNN on Facebook, Twitter and Google+)