Thailand to charge plane crew over North Korean arms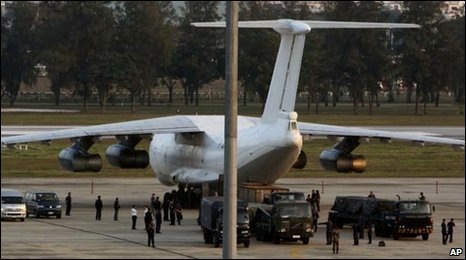 Thailand will press charges against the crew of a plane forced to land in Bangkok and found to be carrying arms from North Korea, officials said on Sunday, adding it was unclear where the plane had been going.
Military and police sources, declining to be named, said the United States had tipped the Thai authorities off about the 35 tons of arms that the plane held, which flouted United Nations sanctions against North Korea.
They said the five crew members — four from Kazakhstan and one from Belarus — were saying little.
Police spokesman Pongsapat Pongcharoen said the five would be charged with illegal possession of weapons on Monday morning, adding they were denying the charge and saying they had no idea they were transporting arms.
Government spokesman Panitan Wattanayagorn said the authorities believed the plane had initially planned to refuel in Sri Lanka and it was not clear why the crew had asked to make an emergency landing in Bangkok to refuel and check a wheel.
"The Thai authorities acted on tips from intelligence agencies of many countries," he said, adding the crew had initially declared the cargo to be oil-drilling equipment.
Prime Minister Abhisit Vejjajiva said Thailand had acted in accordance with United Nations resolutions.
"What I understand is that the plane was to have refueled at Sri Lanka. The goods are from North Korea. The people are from Kazhakstan and Belarus and the plane is from Georgia," he said on Thai television.
North Korea has been hit with fresh United Nations sanctions to punish it for a nuclear test in May. These are aimed at cutting off its arms sales, a vital export item estimated to earn the destitute state more than $1 billion a year.
The North's biggest arms sales come from ballistic missiles, with Iran and other Middle Eastern states being customers, according to U.S. government officials.
ASKED TO INVESTIGATE
An air force official involved in the inspection of the craft, who declined to be named, said on Saturday the Thai authorities had been asked by the United States to investigate the plane and its cargo.
"We were approached by the United States, seeking our cooperation to examine the suspected plane. It came from North Korea and was heading for somewhere in South Asia, probably Pakistan," the official told Reuters.
Monthon Sutchukorn, a deputy spokesman for the Thai Air Force, told Reuters the plane was impounded at 3 p.m. (0800 GMT) on Friday.
"The air force took control of the plane in the evening of December 11," he added. "We found a huge amount of weapons … all of which was transferred to be kept at a safe place belonging to the air force."
The authorities have declined to give details about the arms.
A military source said the haul included rocket-propelled grenades, missile and rocket launchers, missile tubes, surface-to-air missile launchers, spare parts and other heavy weapons. Experts will be taking a closer look on Tuesday.
The plane was an Ilyushin IL-76 aircraft, registered in Georgia.
A police source said the final destination could have been somewhere in South Asia or the Middle East, after a scheduled refuelling stop in Sri Lanka.
Military officials in Colombo said the consignment had not been destined for Sri Lanka.
"Why should Sri Lanka buy from North Korea when the same is available in China?" one official said.
(For updates you can share with your friends, follow TNN on Facebook, Twitter and Google+)